It was a a cold dark winter's night in London on April 30, 1994. 40-year-old Joe Campbell had gone to a phone box to call his parents in Guyana.
It was a time where mobile phones were pretty non-existent, so he headed towards a bright red telephone box near where he lived.
Because of the had a five-hour time difference, he was forced to brave the cold so he could talk to his family. 
But when he arrived he saw what he thought was a discarded bag of chips.  It was actually a beautiful newborn baby girl abandoned by his mother.
She was two hours old.
Joe Campbell felt an "instant connection" to the newborn – whose mother was in an abusive relationship. She had bundled her baby in a white blanket and called the Samaritans.
After the call she fled and left her baby in a telephone box in Forest Gate, East London.
When Mr Campbell found the tiny tot he called the police. She was taken to Newham General Hospital. Mr Campbell named her 'April' after the month of her birth, as well as giving her his last name
Baby April Campbell was adopted by another family who then went on to rename her Kiran Sheikh.
It was only when she was eight she was told the truth about her first few days of life.
Two decades later, wanting to meet up with the man who found her, she made an appeal which Mr Campbell saw. He came forward – and they have now met again in Central London.
Miss Sheikh said: 'I am so overwhelmed, this is unbelievable. I've been waiting 15 years to meet him and he's finally here. He was the second person to hold me after my mother, it's incredible.'
Mr Campbell was shown Miss Sheikh's newspaper appeal for the man who had saved her by a colleague at work.
Mr Campbell had never forgotten the little girl who he found in a phone box.
He kept photos and clippings about Miss Sheikh from the time he found her, hoping he would one day see her again.
He said: 'This is a beautiful, beautiful day. I am so glad she has got in touch after all this time, I have never forgotten her. I can't believe she found me.'
Mr Campbell recalled the moment he first saw little Kiran.
He said: 'As I was walking towards the phone box, I could see what looked like chip wrappers on the floor – it annoyed me that people couldn't pick up their mess.'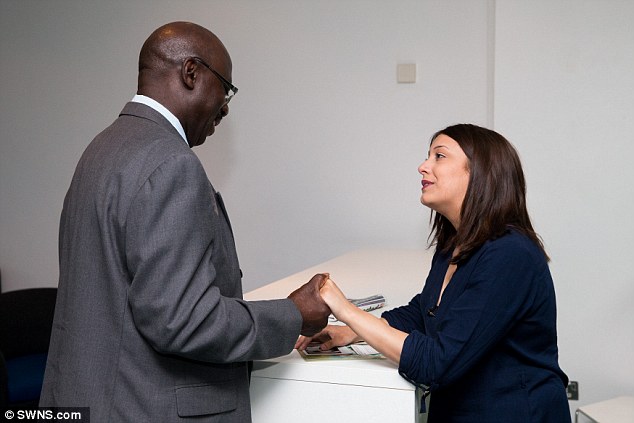 'But just before I got to the door, I realised there was a tiny life form wrapped inside. She was an innocent, sweet little thing, just laying there gargling.'
'As far as I can see, I did what anyone else would have done.'
Mr Campbell tried to stay in touch with Miss Sheikh by taking cards, money and gifts to social services.
He even asked if he could adopt the baby, but was told he could not because he was not married at the time.
Mr Campbell continued for seven years, until social workers told him to stop – but Miss Sheikh said she never received his gifts, and was given no information about him.
She added: 'I don't know why they didn't tell me about him. All I received were photocopies of the outsides of the cards he sent, not even what he'd written inside.'
'I cannot believe they didn't put anything on my file about him. They really could have done something – people don't do what he did, not like that.'
Talking about their reunion, Mr Campbell added: 'Well it was emotional, it was happy – OK, I shed a few tears back whilst waiting, I did my best not to cry yesterday because big boys don't cry.
'But it's one of the happiest days of my life because I never stopped looking for her – I was always hopeful that someday, somehow I'll find her before I finally part this world.'
'She is my family – I told her, I said you've got siblings, OK we're not blood related, but we are.'
And Miss Sheikh said: 'It was just overwhelming – I'd wanted since I was eight years old, that's a long time to turn 22, I'm still overwhelmed now. I think it's going to take a few days to sink in.'
'I didn't think it would happen that quickly. His children were speaking to me yesterday. I'm not angry, I forgive her (my mother), she wrote me a letter saying sorry, I forgive her.'
'I would love to just meet her and forgive her completely. I hope she doesn't feel bad or anything – I would never want her to feel that way.' 
As she grew up Miss Sheikh had suspicions she was adopted. Her parents were much older than her friend's parents and had a different skin color to her.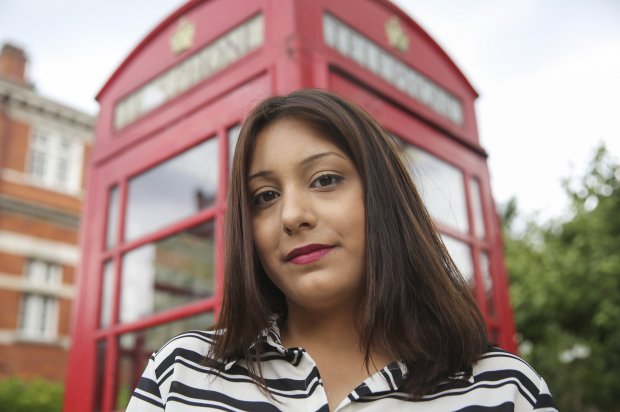 When she was 18, she received her files from social services. But there was no information about the Good Samaritan who rescued her.
She has still never met her real mother who already had six children when she had Kiran.
The police made a huge appeal for the parents to come forwards at the time, but were unsuccessful. This was until Kiran's mother gave birth to her eighth child two years later. 
She admitted leaving her baby, but was not prosecuted and later disappeared. 
Kiran received a letter from her mother apologizing for her actions when Kiran was aged three – but that was the last contact she had.
She has since been in touch with her other siblings but only maintained contact with one called Zoe. Zoe was also put up for adoption and now lives in Florida.
Kiran's father is in prison in Canada for attempted murder after he stabbed another ex-girlfriend 30 times.
Remarkably, Miss Sheikh had grown up streets away from where Mr Campbell lived until 1997 in Forest Gate – with the two having probably crossed paths for years.
Mr Campbell, who now lives in Bell Green, South London, did not know his own biological mother, who died when he was three, and believes this may have influenced the way he feels about Kiran.
He said: 'I wanted her to have parents. My stepmother looked after me as if I was her own, and I wanted Kiran to have that too.'