Growing up my mother really struggled with my hair. See, I got that "Nigerian hurr" that Lil Wayne raps about in his song 'A Milli.'
My mom used the African threading method on my hair – which is basically a thread that is tied around the hair and is great to promote length.
I hated it.
Most of my friends had simple cornrows or braids. But kids want to sport cute and extravagant hairstyles, expressing their individuality.
Here are some hair ideas for your little darling…
#1. The Braided Bun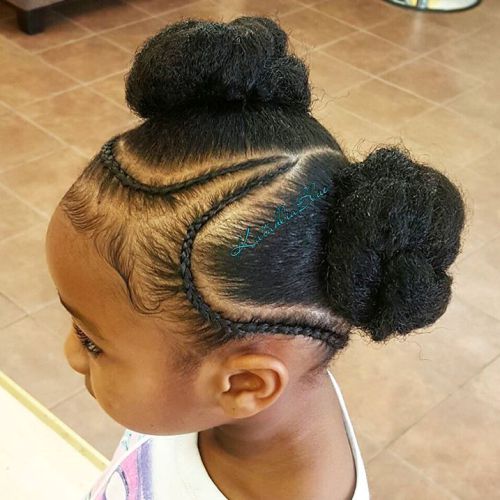 This cute little hairstyle will make your little darling feel grown up and ready to take on the school day.
This style can be kept neat for several days and you only have to slick down the edges in the morning.
#2. Half Bun Half Cornrowed
If you're strapped for time and need a long lasting style for your little one – this is the perfect style for you.
You can opt to add Xpression extensions to make it last longer or leave it natural.
This cute style will keep your daughter looking radiant for weeks.
#3. Cornrow In A Bun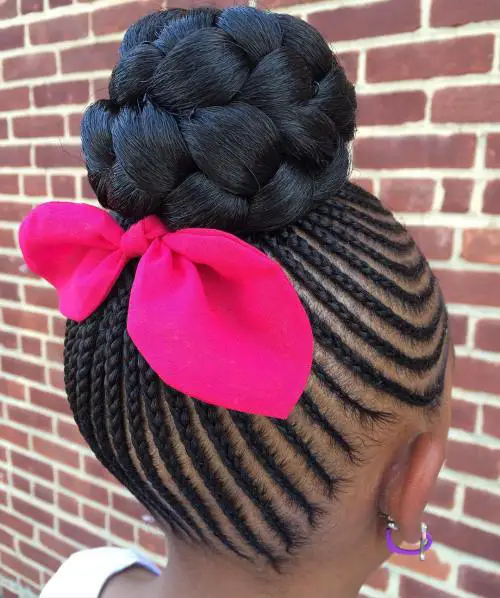 This is a simple and classic style that never fails to look super cute and fashionable.
You can add bows and bobbles to the bun to add a touch more cuteness.
If your daughter has shorter hair you can add some hair extensions to create this braided bun.
#4. Fishbraid Ponytail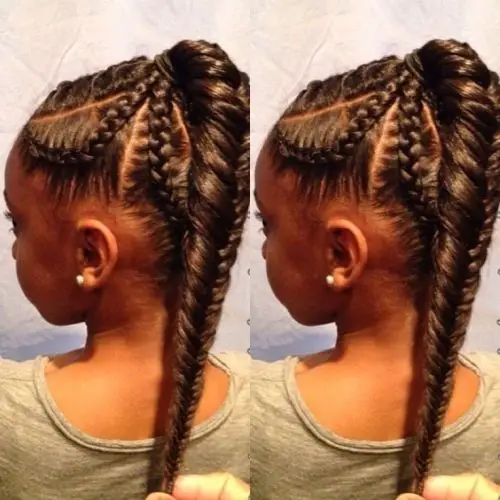 This unique hairstyle is perfect if your little one has longer hair.
Instead of just slicking the hair back in a pony tail, this style will have your daughter as the center of attention at school.
#5. Diva In Training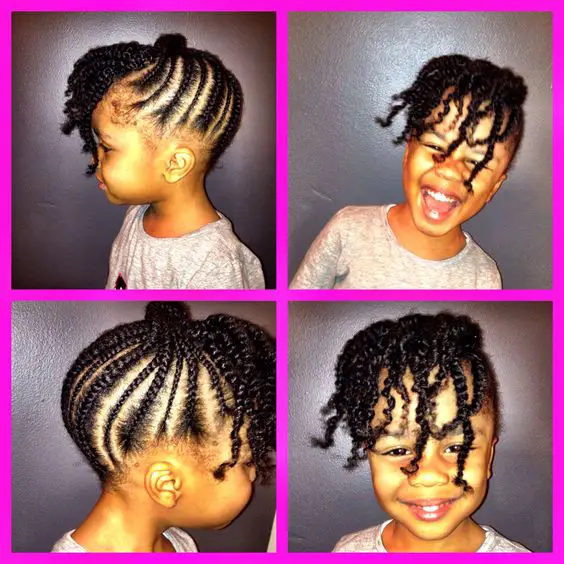 Although some kids may hate it, I loved having my hair in my face as a kid.
This hairstyle is a great compromise, and you can decide how much hair to leave out in the front.
#6. African Queen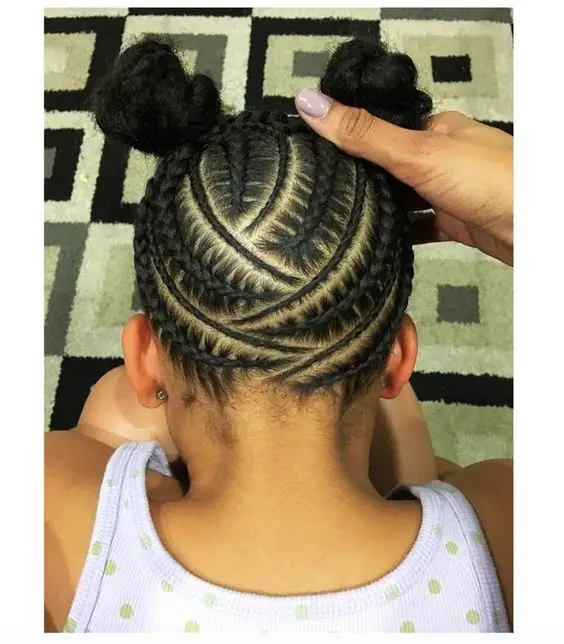 Now, here's a hairstyle my mother couldn't do! But the great thing that we have now that I didn't have when I was growing up is social media.
Take this picture to the salon and get your little darling this cute little style – she'll love you for it.
#7. Take A Bow
This hairstyle is so bomb! This is perfect for a kids party or a christening.
#8. Creative Cornrows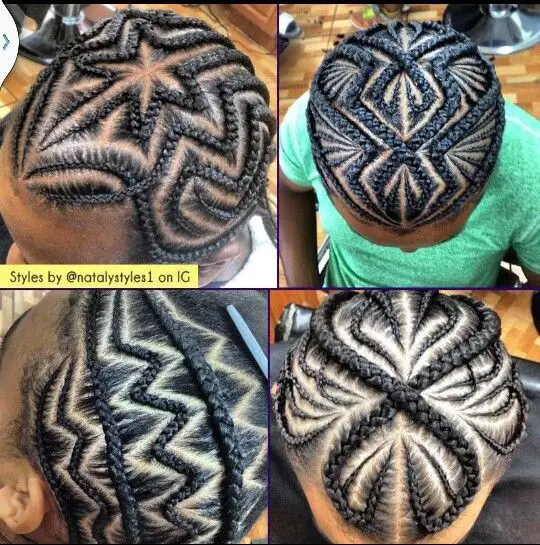 Cornrows can be so versatile, yet growing up I always had simple straight styles.
These selections of different cornrows show that you never have to do your little girl's hair the same.
#9. The Quiff And The Cornrow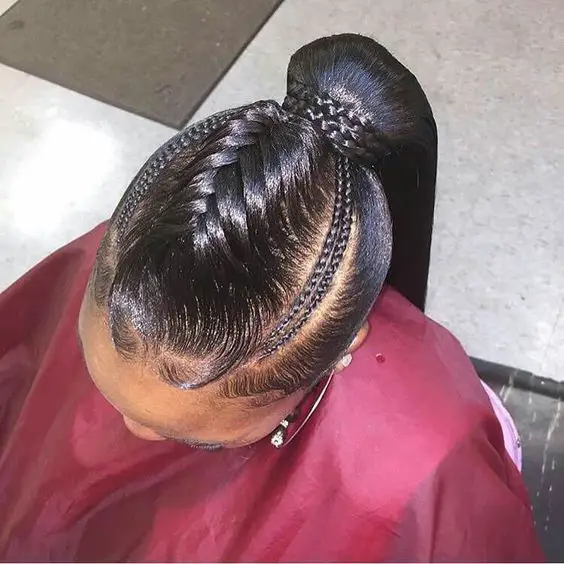 When your little one gets older it's hard to find hairstyles that don't look too young but don't look too grown up either.
I personally love a quiff, and this hairstyle is a perfect in between hairstyle that should please both you and your child.
#10. Sleek Cornrows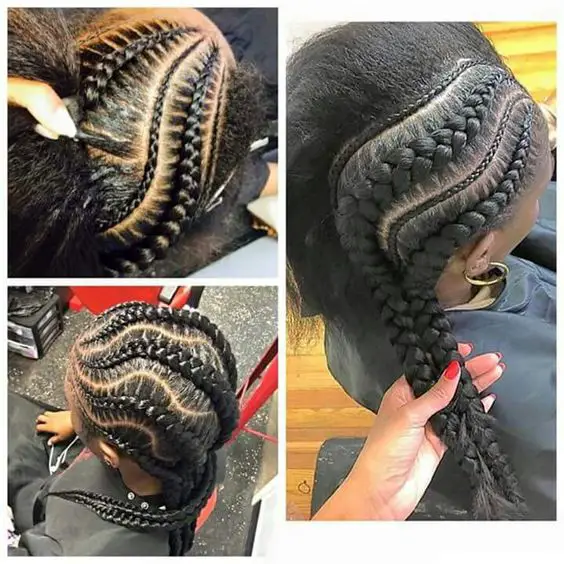 I love this subtle twist on the classic cornrow. This is great if you want something simple that still looks pretty.
Matching both small and big cornrows and changing the parting into a curved one, is sure to make your little darling look beautiful.
What's your favorite hairstyle?