Are you planning on reinventing your home's interior design? Are you interested in stylish options? Do you love the look of luxury homes and want to mimic that look in your own home?
The average interior design project will cost between $1,500 to $12,000 for the designers themselves, not counting furniture expenditures, regardless of the billing method. Interior design is something that can be both fun and costly.
From the decor you choose to the furniture in your home, you're going to have to figure out the most pleasing way to design it. Here's a look at some of the luxury home interior design ideas that you need to know about.
1. Introducing Plush Velvet Furnishings
Plush velvet furnishings can take your home's interior design to the next level, introducing a luxurious, elegant, and sophisticated look. Perfect for a luxury living room, bedroom, or even a home office, plush velvet adds a touch of class that's hard to resist. Think opulent, dramatic sofas, armchairs, and plush, sumptuous throws.
Velvet armchairs look amazing and unique when paired with an ottoman. It creates a focal point with texture and depth.
Use velvet to bring color and life to otherwise neutral rooms. When you want to make a statement in your home, velvet is always a popular choice.
2. Incorporating Ornate Lighting Fixtures
Chandeliers, sconces, and pendants can add an air of elegance to any room. They can also be used to great effect in a room that has an existing luxurious feel. For a more classic look, invest in a grand chandelier that uses timeless, ornate detailing.
For a more modern and contemporary feel, opt for pendants and wall sconces. Not only are they a beautiful addition to the luxury interior space, but they also create stunning ambient lighting.
When incorporating lighting fixtures, remember to select pieces that match your existing decor. This will bring out the best of both the fixtures and the room's decor.
3. Bringing in Luxurious Floor Rugs
Rugs have the power to immediately transform any space, whether it be providing texture, color, or warmth. Floor rugs come in diverse styles and materials that will add style to any space. You can opt for exotic or classic floor rugs, which will bring life and texture to your living space.
High-end floor rugs with intricate and handmade details will exude a regal vibe in your home. Soft materials like wool blend into subtle patterns to give your home an air of sophistication. If you're feeling extra extravagant, add a chunky rug for an inviting texture on your feet.
A high-quality shag rug will give your living space a stylish touch, even when placed in a small bedroom. Installing patterned rugs in an entryway can make for an elegant, inviting first impression. Silk rugs can create a vibrant, luxurious backdrop for any boudoir or office.
To complete the look, you can also find handcrafted rugs with unique trimmings and fringe edging for a touch of uniqueness. Choose a rug style that complements your furniture and accessories. Ensure that the textures and colors work to create a cohesive design that provides a sense of luxury and comfort.
4. Choose Custom Window Treatments
Custom window treatments can add to the decor and styling of your home by adding style, color, and depth. Custom window treatments can be tailored to your exact specifications, from measure-to-measure curtains and custom blinds to custom shutters and motorized shades.
Blinds come in a variety of materials, such as vinyl and aluminum. They come in a range of sizes and styles. Custom curtains can be designed with interesting colors and prints to add a unique touch to any room.
Shutters offer a classic look and can be customized to fit any space. They offer superior sound and light control. You can find treatments that fit in with traditional, transitional, or contemporary designs.
You can customize the fabrics, textures, and colors for a unique look that works with your home's style. With so many options, it's easy to find the perfect window treatments to make your home beautiful.
5. Consider Unique Bed Headboards
Unique bed headboards can give the room a stylish look. Wall-mounted headboards are the perfect way to bring the room to life by adding a splash of color or intricate handcrafted details. An unconventional choice like an upholstered velvet headboard can make a room instantly inviting.
For a modern look, experiment with geometric shapes and mixed materials, such as wood and leather. Metal headboards can give a modern edge, or choose something exotic like a rope-framed bed headboard for an eclectic look. For a regal feel, pick high-end fabrics like silk and layer them over a headboard to make a statement.
Headboards can also be used to display collections or add built-in lighting to the ambiance. Your bed headboard sets the tone and is the centerpiece of any bedroom. Make sure you get creative and find something unique and special.
6. Indulging in Cozy Bedding
Sumptuous bedding comes in various sizes, textures, and designs. This allows you to customize the indulgent vibe that fits your lifestyle.
Opt for cozy linens, like high thread count cotton. Pair them with plush fabrics like cashmere for an added touch of decadence. Pillowcases should also be made of high-quality fabric, such as velvet or silk.
To ensure ultimate comfort night after night, be sure to round out the room with plenty of throw pillows. All dressed up in different textures and a variety of rich jewel tones. For an elegant and timeless look, invest in a duvet cover with embroidery details and a lush coverlet.
To create the ultimate warmth, look for a comforter with faux fur accents. Together, these elements will create a retreat that is perfect for any luxury interior design.
7. Adding Mirrored Accents like Dressers
Mirrored accents like dressers create a room that is both stylish and timeless. They can add a touch of glamor to your interior design. You can pair a mirrored dresser with a modern or contemporary sofa to give the area a distinctive look.
You can even layer different dressers for an eclectic feel. When using a mirrored dresser, make sure to include other elements in the room that will add to its luxurious look, like subtle hues of accessories and glass and metal frames. The reflection of the mirror will help to enhance and tie everything together for a stunning interior.
8. Select Natural Stone Flooring or Countertops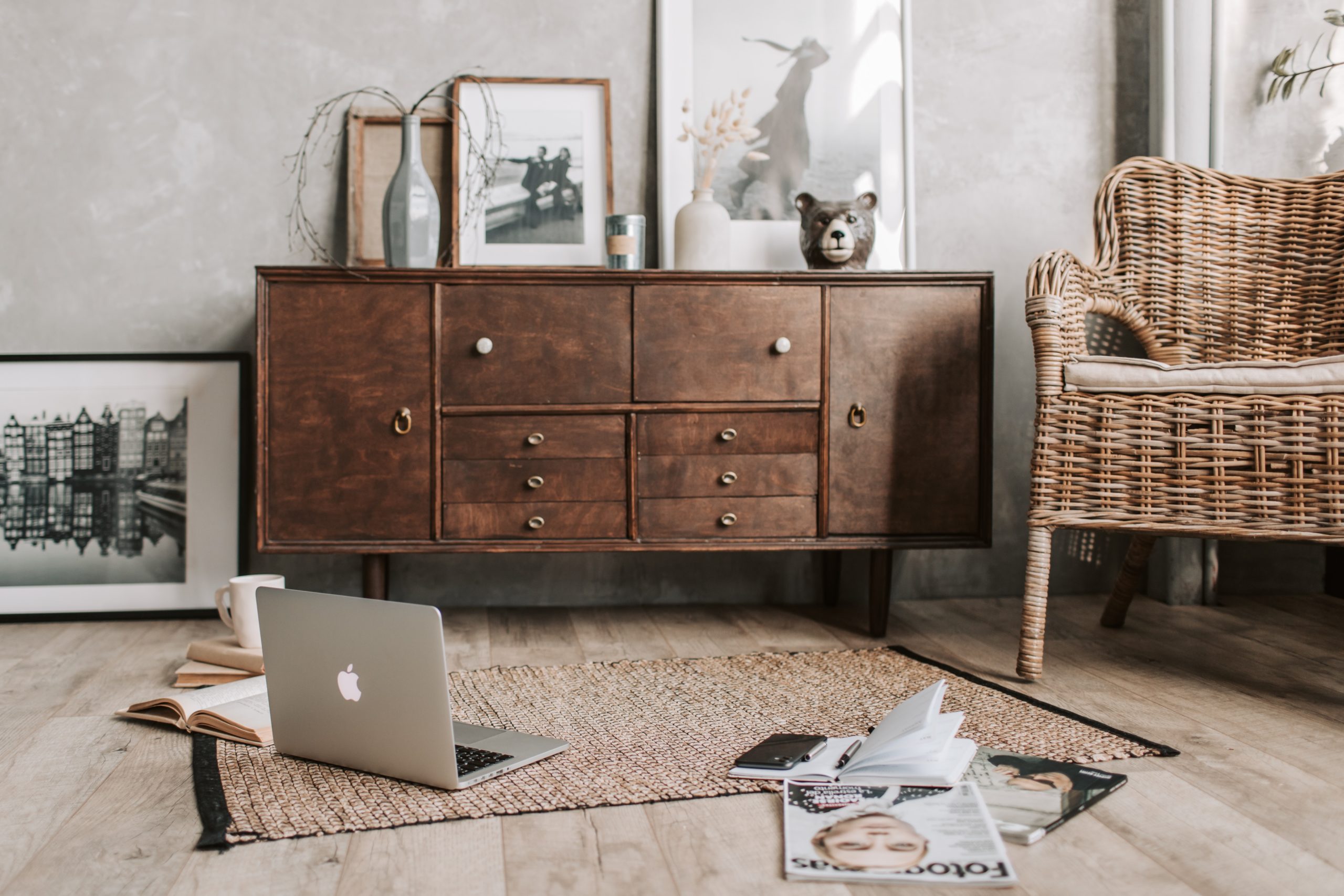 Natural stone flooring and countertops have a luxurious and timeless look. Featuring subtle veining and intricate patterns, this material is also durable. It is a great option for both high-traffic areas, such as the Kitchen and bathroom, or more traditional rooms, such as your living room.
Natural stone can be a great way to add texture to experience a luxury kitchen at home. This can be effective for those looking to create an elegant, sophisticated look.
Natural stone flooring and countertops come in a wide variety of styles, colors, and sizes. They are also easy to maintain and can last for decades.
They are an ideal choice for someone looking to add a touch of luxury to their home's interior design ideas. With the right combination of colors and design accents, you can create a luxurious space that you and your family will enjoy.
9. Incorporating Custom-made and High-end Cabinets
With its premium look and feel, high-end cabinetry adds an extra sense of luxury to your home. You can find cabinets made from the highest-grade materials, such as maple, walnut, and mahogany. Some cabinets feature intricate carvings or inlay designs that will stand as statement pieces in any room.
You can also add other luxury touches to your design with brass, marble, and other materials. Depending on your preference, you can choose customized sizes and shapes to fit your home's decor.
They're also versatile, so you can install them in just about any room in your home. No matter what style you are looking for, custom-made and high-end cabinets will add the right flair to your home.
10. Adding Polished Chrome Faucets
Adding polished chrome faucets can make any room look more luxurious, with the gleaming finish providing a modern and glamorous edge. Not only do the faucets look stunning, but they are also very durable and easy to clean. Chrome is naturally hard-wearing, so it is perfect for busy family homes.
Accessorize with lighting fixtures, handles, and hinges, and add beautiful period features for a timeless look. For a more individualistic look, these faucets can be contrasted with other metals to compose an eye-catching design. From contemporary to traditional and chic to rustic, chrome can be used to give a luxury home interior a truly unique look.
Exploring Luxury Home Interior Design
Having luxury home interior design ideas to choose from can make your home feel like a dream. Depending on your style and budget, you can choose a variety of designs that will make your space look incredible.
So don't hesitate to start decorating your home – you'll love the results. Take advantage of these design tips for your own home and start transforming your space today!
Keep scrolling to discover more great home improvement tips and ideas on this page!