She is taking social media by storm and striking a pose on catwalks all around the world.
Yet Melanie Gaydos suffers from a rare genetic condition which causes growth abnormalities.
The 27-year-old was born with ectodermal dysplasia, a genetic disorder that affects the growth of teeth, pores, cartilage, nails and even small bones.
Melanie is bald, and doesn't have any adult teeth. 
Melanie, who hails from Connecticut, has spoken out about how her sheer determination has led to her big break into the fashion industry.
Speaking to Yahoo! Style Melanie is defiant when it comes to dealing with negative comments.
She also refuses to wear dental implants. 
'People are more comfortable when I have teeth in my mouth,' she said, before adding: 'But I'm not.'
Melanie also has a bilateral cleft palette and alopecia, which means her natural hair does not grow.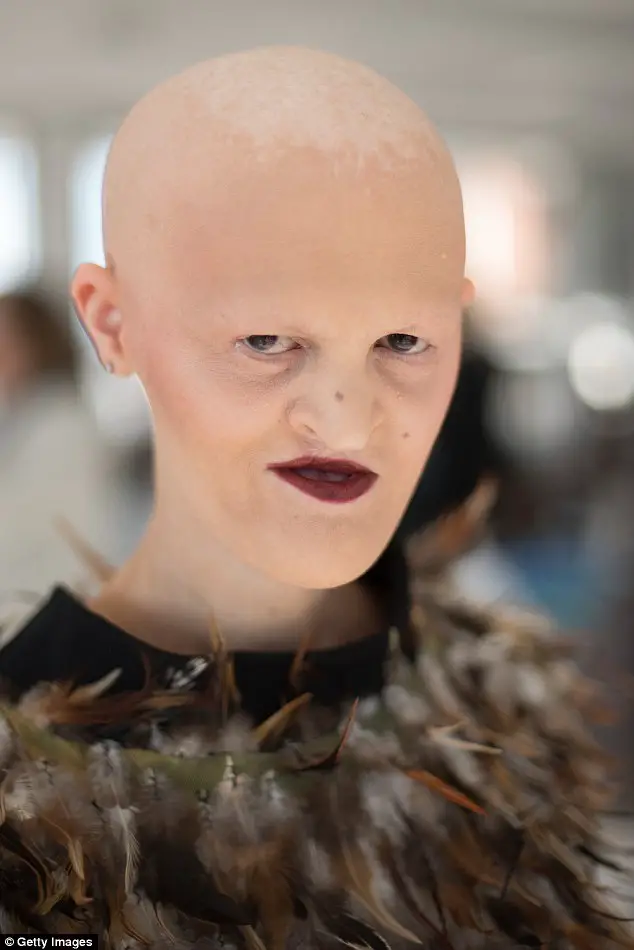 Growing up with alopecia, Melanie had ingrown hairs from time to time.
These went unchecked under her eyelashes causing damage to her corneas.
The brave and beautiful model now suffers from partial blindness.
Last year that Melanie got her first set of false teeth whilst appearing on the medical talk show The Doctors.
But the courageous model stopped wearing the dentures eight months after the episode aired.
Although she thought getting teeth would be 'life-changing' she found that she was happier the way she was.
Of her inspiration to become a model, Melanie revealed: 'I always had this fascination of being larger than life. I wanted to be on a billboard or on a big movie screen.'
'I think it helps other people to see me in a different way rather than if they met me on the street, and what their preconceived notions might be,' she explained. 
But Melanie's first passion is actually fine art. She studied at the prestigious New York's Pratt Institute'
She began focusing on self-portraits, allowing her to embrace her own unique beauty.
Eventually, a boyfriend convinced her to try modeling.
Melanie recalled: 'He helped me to understand that I am the only person who looks like me, that there was potential.'
After applying to numerous Craigslist ads looking for 'unique' models, she soon built up a small portfolio.
This led to famous Spanish photographer Eugenio Recuenco sending the inspirational model a gushing fan letter.  
Melanie was floored.
In fact, the photographer was so taken by Melanie he flew her out to Berlin for a music video he was directing for German band Rammstein.
When asked if she is bitter about her disorder, Melanie said: 'No. It doesn't bother me, and it never did. Or if it did, it's because it was something people were telling me I should be upset about.'
She added: 'People used to ask me: How do you eat without teeth? Well, people with no legs run marathons. It's all a matter of perception.' 
She told Femail: 'People treat me with more respect now, which is kind of sad considering that what I am doing now is not any different than what I have been doing for the last six years.'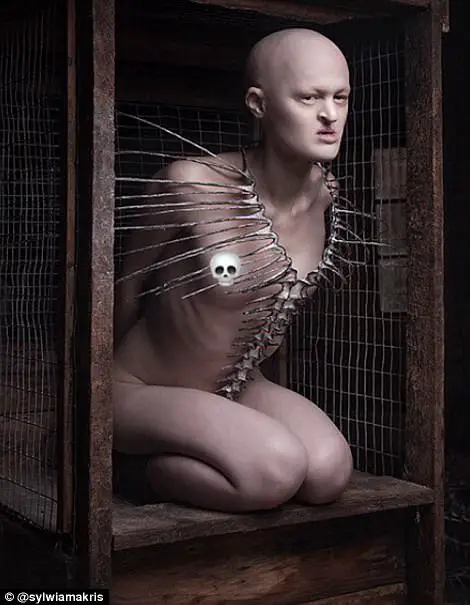 Melanie has over 120,000 followers on Instagram,.
She credits singer Miley Cyrus as one of her biggest fans.
Melanie says social media has seen changed attitudes towards her distinctive looks. 
She says sharing a 'diary' of her life online has helped to instil her confidence.
Melanie who moved to Seattle last summer to take a break from New York and the east coast, says that her career so far, in spite of a few small minded people has blossomed.
'It's turned into exactly what I thought it would be: successful, growing – evolving and with amazing, beautiful opportunities.'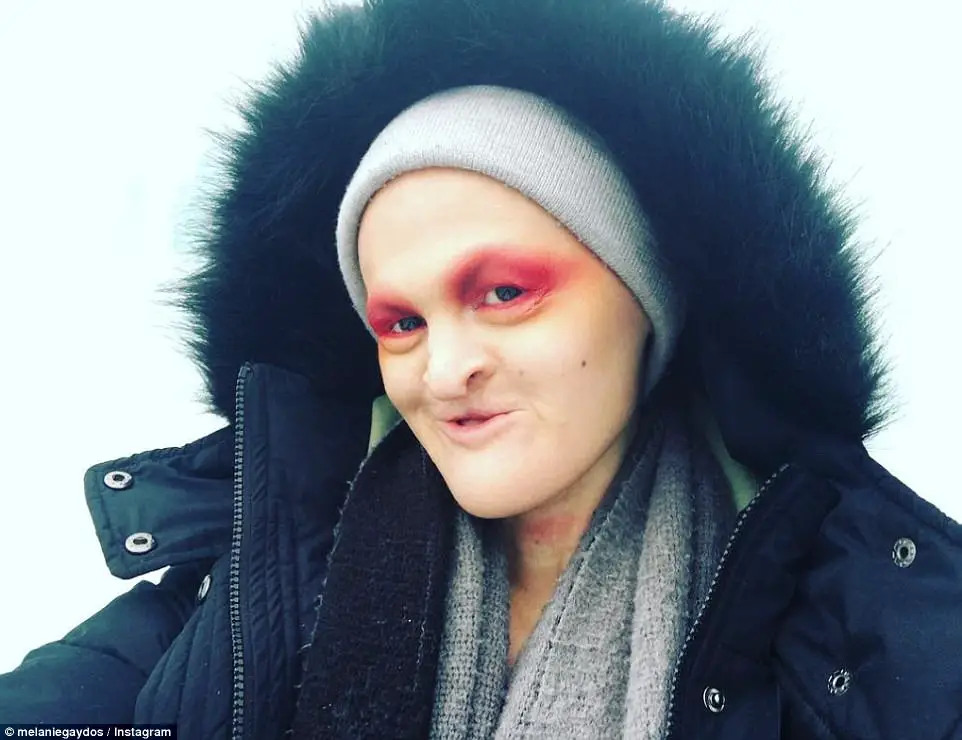 'I am just staying true to myself and creating, maybe with more mindful awareness and personal power.'
And what would she say to her younger self that lacked the confidence to become a top model.
Melanie says: 'That I am a badass and she would probably be really proud of who I am today.'