Modernist interior design has persisted in its popularity for good reason. A modern aesthetic is simple and smooth, sleek and functional. Its characteristically open design can benefit small spaces in particular by making them seem spacious and comfortable. So how can you create a modern aesthetic in your own home? Here are a few ideas.
1. Introduce industrial elements
The incorporation of industrial elements into living spaces is a hallmark of the modern style. Materials like concrete, iron, steel, and glass should be a foundational part of a room's design. The materials themselves should be out in the open and visible for all to see.
To achieve this effect, you can install large glass windows, put some brushed metal appliances in your kitchen, or coat your home's concrete floors with an appropriate concrete epoxy, giving them that glossy modern look.
2. Create an open layout
As opposed to more antiquated styles, a modern aesthetic doesn't require that you strictly define each space. In fact, it's better if you don't separate your living spaces and embrace the open layout instead.
In small homes in particular, employing an open layout that utilizes a minimal amount of walls can make the space feel a lot larger than it is.
3. Stick with straight lines
The interior of modern-style homes are typically understated in a way that emphasizes their sleekness. Curved lines and ornate features tend to belong to the traditional style, which is the exact opposite aesthetic you're going for.
So, when planning out your home's interior, make it a point to include strong horizontal and vertical lines in your design. The use of straight lines will provide your space with a geometry more aligned with modern tastes.
4. Use a neutral color palette
When planning out the color scheme for your home, use a neutral palette if you're going for a modern look. Ornate, patterned wallpapers are too busy for this more minimal style. Instead, you want to emphasize lighter, neutral colors such as white and grey.
These shades will look great alongside both the industrial elements and the natural wood features in your home. Also, by using a neutral color palette you'll create a space where bolder accent colors and highlights can stand out and be noticed.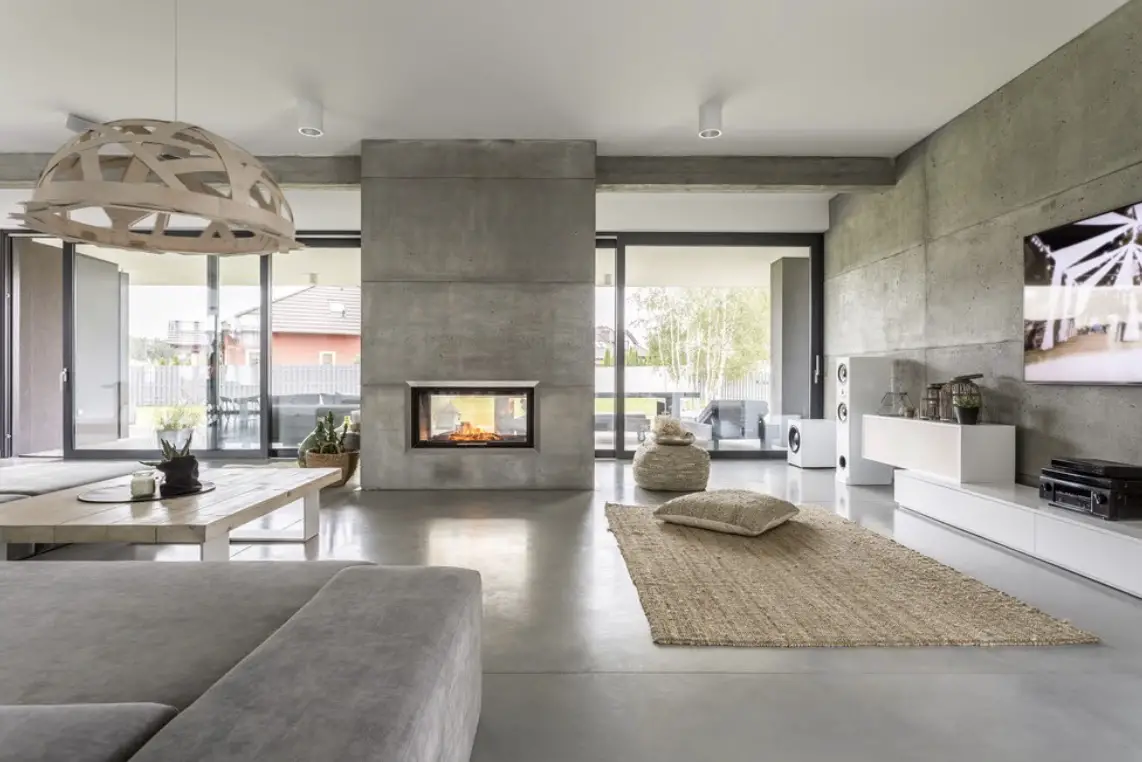 5. Go bold with accent colors
Even though the color palette in your home should consist mainly of neutral colors, you can still tie brighter, bolder colors into the design. Accent colors are extremely important when it comes to breathing some life into your modernist living space.
You can add splashes of color through the accessories you introduce to a room. Purchasing patterned accent pillows, a brightly colored chair, or an offbeat vase are just a few ways you can inject some vibrant colors into a room. When shopping for these items, try to find them in primary colors, as these almost always look great within a modern style home.
As a bonus, one of the great advantages of introducing color into a room via accents is that you can easily change the color scheme! Since the walls and the staple pieces of furniture are neutral colors, you can just switch out the accent pieces and it will radically alter a living space.
6. Hang up modernist art
No matter what style you decide to give your home, hanging up art is almost always a must. By framing prints, posters, and other wall art, you can express yourself, make the space your own, and provide the home with some character.
Of course, modernist art—which includes abstract art, cubism, and futurism, to name a few types—always serves as a great complement to the overall style. You can find a few affordable prints online and then, ideally, you should place them in a thin frame.
Don't clutter the walls, though—less is more, and a single large piece splayed across a living room wall can help to define the space.
7. Mind the details
If you ignore the details when updating your home, you'll never fully realize that modern aesthetic you're going for. Things like cabinet handles, knobs, light switches, and outlet covers should all be kept up-to-date with the rest of the decor. A yellowed light switch cover or out of place knobs on the cabinet can stick out and make your home feel old
If you want a look that combines refined style with functional purpose, then modern interior design is probably for you. And, keeping these ideas in mind, you can transform any home into your ideal modern living space.