Juggling your busy schedules to make time for your girls can be hard, adulting is extremely chaotic and you need your girlfriends every once in a while to bring you back to sanity. If you are the kind of girl who loves hosting girl's night for your gang and you are out of ideas for what cocktails to serve next, then we have just the list for you. We have curated 10 fun and extraordinary ideas for fun drinks on your girl's night. Don't worry you can choose to make all of them but read through and decide which one you would be doing first.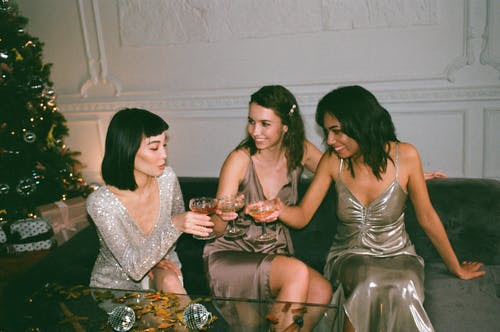 You can find below 8 Cocktails for your next girls night:
1. Pina colada 
"If you like Pina Coladas," don't tell us you didn't sing along the Escape song in your head a little bit. This is a classic tropical drink made from coconut cream, pineapple juice and rum of your choice. You and your girls can get groovy on this and get caught in the run. you did again, didn't yeah?
2. Beer Margaritas 
If you are bored with your usual margarita schedule then this drink is for you. Even if you and your girls hate the taste of beer, just adding a hint of tequila in it with frozen lemonade and a lime cut can change that. This is also an unusual drink to go for.
3. Chocolate Martini
There is nothing more perfect for a girl's night, for this, you need a spoon of chocolate syrup, some magic of Baileys Irish Cream ¼ cup, a little bit of vodka also ¼ in quantity and ¼ and creme cocoa. Put it in a shaker with some ice and get high on this delicious cocktail with your besties.
4. Lemon Flora 
This is a windy, floral drink for a chill July night where you and your girls wear summer dresses and jam Lana Del Rey in dim lights. Painted quite a picture right? 
For this, you need 2 ounces of Hendrick's Midsummer Solstice Gin or any gin that has a floral pallet. Pour orange juice, gin, ice, and elderflower liquor in a shaker. Pour it in a glass with some kosher salt to go with it and enjoy your summertime sadness with your gals. There are ways to make this recipe with egg whites but we all have that one vegan girlfriend who might not enjoy it as much so this one is the safest and easiest for the audience.
5. Raspberry Martini 
One of the classics for girl's night if you are looking to get hammered without realizing it, you just need ¼ lemon juice, ¼ raspberry syrup, and some elderflower liquor with 60ml of Vodka per glass. Put all these ingredients in a shaker, shake it for 30 seconds, and voila it's time to see stars. For garnish, you can use fresh raspberries. 
6. Watermelon Smash 
The dazzling and refreshing drink is a great sundowner drink. The ingredients you need for this are one watermelon and some vodka, feel free to pick out your favorite vodka, toss it with some freshly cut cubes of watermelon, and voila you have an easy peasy yet delicious drink for the girls.
7. Apple Pie Mule 
This cozy drink is ideal for a movie night with your girlfriends. It's super easy to make and even easier to get drunk on. You need a few bourbon-infused cinnamon sticks, some applejack, some apple slices, lime juice, and ginger beer.
Put everything except the ginger beer in a shaker with some ice and shake it well. Pour the drink into a glass and top it up with some ginger beer. Enjoy this cozy-juicy combination with your girls.
8. Blood Orange Punch 
This colorful drink is a gin-based one and it takes 15 minutes to prepare it. 
You need 2 cups of fresh blood orange, 2 lemon peels zested for lemon twists, and one cup Campari. You need one entire cup of gin or more if you want your girls to stay the night, ¼ cup sweet vermouth, and 6 cups of chilled club soda. Your ice block containers can be filled with ¾ water. Add lemon twits and freeze until it becomes solid, freeze for 6 hours, take a punch bowl and pour blood orange juice, Campari, gin, and vermouth. Then add ice blocks and club soda. Enjoy this exciting drink that can get an entire village giddy.
Conclusion
So what are you waiting for, hit the grocery store, call your friends and host them with drinks never tried before.