When facing major health events such as surgery or a stroke, concerns about managing recovery at home often arise. In such cases, doctors may prescribe home care services to facilitate healing. This guide aims to provide an overview of home care services, including their types and how they are provided.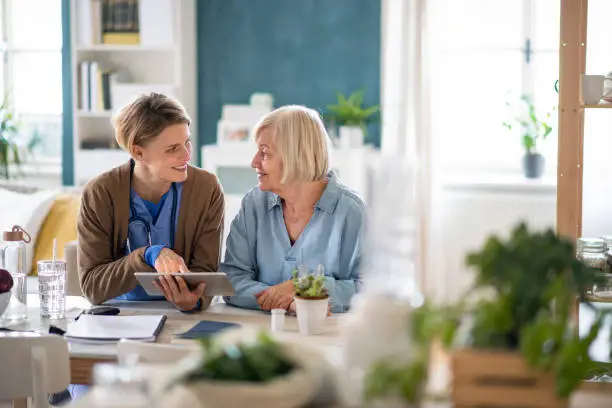 Understanding Home Care Services
Home care services, commonly called home health care, include a wide range of specialized support offered in a person's home. These services include assistance with daily tasks like washing and dressing, nursing care for procedures like feeding, and rehabilitative treatment. Home care may also include social work assistance and visits from mental health professionals.
Home care is often a short-term solution to meet the particular requirements of people who are ill, injured, or in other situations. Care professionals physically visit the individual's house, and establishing home care is sometimes as simple as following the doctor's instructions, comparable to receiving medical tests or prescriptions.
A discharge planner works with the doctor to ensure the necessary services are coordinated for a smooth home transition. A doctor may coordinate home care services or traveling physician if a patient has sustained an accident or a chronic disease requiring continuing care.
Determining the Need for Home Care
Even if your doctor recommends home care, you may still question its necessity. It is common for individuals to underestimate the level of weakness or illness they may experience. Even with a supportive family member or friend, there may be certain aspects of care they are unfamiliar with. 
Home care providers like Australian Unity ensure that a nurse or rehabilitation therapist can guide your loved ones on proper wound care or safe movement. 
Moreover, it allows you to rest, recover fully, and avoid pushing yourself too hard. By bringing care directly to you, home care can also minimize the need for multiple follow-up appointments.
Types of Home Care Services
It's important to note that not all home care providers offer the same array of services. The care provided is customized based on individual needs and may involve one or multiple home care services. The following are the three primary types:
Personal Care and Companionship
This form of care focuses on aiding with everyday activities such as bathing, clothing, meal preparation, and home responsibilities to increase independence and safety. A doctor's prescription is not usually required for personal care and companionship services. These services are delivered continuously, according to a schedule adapted to the client's needs, and may include 24-hour care.
Home Health Care
Home health care is short-term care prescribed by a physician to aid a patient in preventing or recovering from illnesses, injuries, or hospital stays. Medical professionals specifically direct this care. A doctor must prescribe home health care services. Specialized clinicians visit the individual's home for sessions lasting up to an hour. These visits occur on a short-term basis until specific goals are met.
Private Duty Nursing Care
Private duty nursing care is long-term, hourly care delivered home to adults with chronic illnesses, injuries, or disabilities. It involves the provision of nursing services. Private-duty nursing care necessitates a doctor's prescription. It is primarily delivered in shifts that span 24/7.
Creating Your Home Care Plan
A comprehensive home care plan can relieve and reassure older adults and their families. Collaborating with your loved one's caregiver allows you to develop a personalized home care plan, with the option of regular updates and a direct line of communication if necessary. 
A reliable home care provider will also pay attention to any health declines or potential hazards in the home and promptly address any concerns.
Get The Right Home Care Service!
For those new to home care services, understanding the different types of care available and the need for such services is essential. Home care provides vital support for individuals recovering from major health events, ensuring a safe healing process within the familiarity and comfort of their own homes. 
By working closely with care providers and establishing a comprehensive home care plan, individuals and their families can experience peace of mind and a smoother road to recovery.