Alicia Keys and Swizz Beatz have to be one of my favorite celebrity couples. 
They're humble, charitable and insanely talented.
This past Monday the couple were spotted on the streets of Berlin leaving their hotel with their two-year-old son, Genesis.
The adorable tot was seen clutching the hand of a minder, while his mom and dad trailed behind him.
The 'If I Ain't Got You' singer tucked her curly locks under a printed turban as she accessorized with black sunglasses and large gold hoop earrings.
She wore a comfy black hoody with a printed motif on the front.
The 36-year-old was affectionately held the hand of her 38-year-old husband.
Swizz – whose real name is Kasseem Dean – was dressed almost identically to his wife of seven years.
The Grammy-Award winning hip hop producer stepped out in a pair of black sweatpants and black Nike sneakers.
He also wore a black hooded sweatshirt, which like his wife also had a printed motif on the front.
He finished his casual look by wearing a orange beanie.
Meanwhile, their adorable son was seen wearing grey sweatpants with white stripes printed on them and an orange sweatshirt with text on the front.
The couple are also parents to a six-year-old son, Egypt, but he wasn't seen during the family outing.
Swizz has three other children from previous relationships.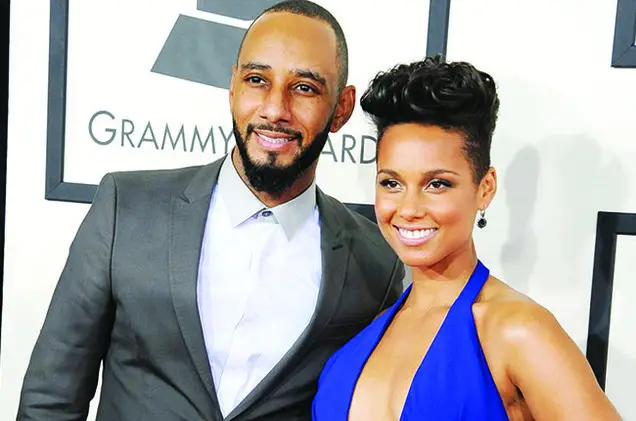 The family was in the German city for Swizz's No Commission show, which sees artists uniting in free spaces.
The artist can then put on free performances or display their artworks without charging fans.