Kanisha Anthony has been through hell and back. 
Yet the pretty 27-year-old has turned a tragic set of circumstances into a triumphant story of hope.
When Kanisha was just four-years-old, at home with her mother and three brothers, a fire broke out.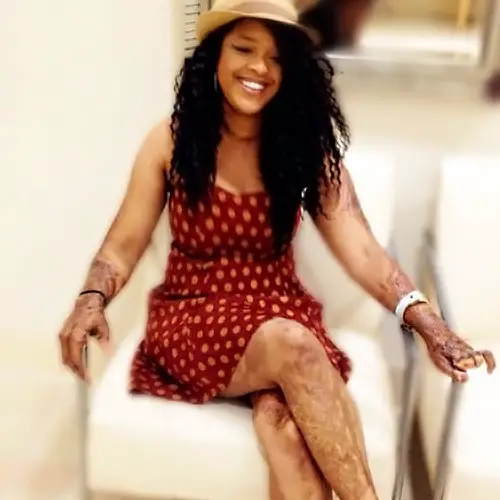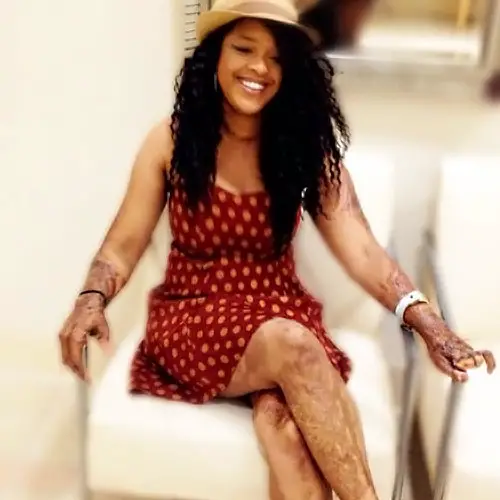 She was suddenly alone and trapped in a room full of fire and smoke.
All she remembers is being pulled out from a window by her big toe. Tragically two of her brothers age two and six did not survive.
Kanisha lost four fingers, an ear, all of her hair and was burnt on over 60 percent of her body.
Kanisha herself almost died.
She stopped breathing in the ambulance, but after a few minutes her heart started beating again and she was given another chance at life.
But the now mom-of-three proudly shows off her scars and constantly uplifts her almost 10k followers.
She never takes her life for granted and implores her followers to live the life they are given no matter how hard it is.
She admits her life has an extra layer of difficulty. At one point she was even told she could not have children.
'Because of the way my scars are on my sides, back and belly, the doctors never thought I would be able to carry a child.'
'I took the risk. A family was something I thought I would never have. So to me it was worth it.'
'At the age of 4, I was in a house fire. I remember being trapped by a room full of fire than being pulled out of the window by my big toe.'
'I was in the house with my mom and 3 brothers… two brothers (age 2 and 6) did not make it out.'
'I was sent to one hospital where they weren't able to do any thing for me, then flown to another. By the time I made it there, my heart had stopped.'
'My mother had been told her 3rd baby died. After a few minutes, I was given another chance at life.'
'And I don't take it for granted at all. I was burned over 60% of my body, lost 4 fingers, lost an ear and lost all of my hair that isn't able to grow back again.'
'Those were the things that I lost… but I gained so much more. I was given life. I am married. Through your bad days and through the good, you are here!!!'