A mother-of-five who weighed an unbelievable 751lb has shed a whopping 274lbs.
Milla Clark, 48, Fayetteville, Tennessee, also learned to walk again after she bedridden leaving her unable to visit her dying husband in the hospital.
Her journey was documented on the TLC special, My 600lb Life: Where Are They Now?, after she appeared on the reality series last year.
Milla tragically lost her husband Elroy during filming, but vowed to continue with her tremendous weight loss.
The mother-of-five, four of whom are adopted, was determined that they were not going to lose both of their parents.
When she first appeared on My 600lb Life, Milla revealed that her massive weight and heavy lymphedema on her leg had left her unable to leave her bed for two years.
'Every single day of my life is miserable,' she admitted.
'I have been trapped in these four walls for more than two years. During that time, I have not stood one time. All I can do is eat and sleep.' 
Milla relied on her five children and her now-late husband, who was battling his own health issues, to take care of her.
Three of Milla's teenage kids, Jacob, 17, Hannah, 16, and Caleb, 16, woke up every morning before sunrise to come in and bathe her because she couldn't do it herself.
Milla confessed that her kids had the unfortunate task of having to wash her 'everywhere' to make sure she didn't develop an infection. 
While Hannah washed her 'private parts', Jacob held her lymphedema because it was so heavy that her daughter couldn't lift it and clean her at the same time.
'It is such a humiliating thing,' she said tearfully.
'Children their age shouldn't have to take care of their parents'. 
Milla has been struggling with her weight her entire life. When she was three years old, other kids started calling her fat.
She says the only way her mom knew how to show love for her and her sisters was by giving them food. 
After her high school graduation, she met the love of her life Elroy.
They married while Milla weighed over 400lbs – but Elroy didn't see her weight as a problem.   
'I was so in love with Elroy. I forgot I was fat for a minute,' Milla said.  
Soon after the wedding Milla gave birth to her first child and her weight ballooned to 500lbs. Soon after she wanted another baby, but doctors made it clear it was far too risky for her to try and conceive again. 
Instead, the couple adopted four children from homes with drug-addicted parents. And while, she vowed to take care of them, they ended up being the ones caring for her.
In the hopes of saving her life, Milla and her family made the decision to move to Houston, Texas, so she could consult with weight loss surgeon Dr. Younan Nowzaradan.
When she was admitted into the hospital, she learned she weighed 751lbs, but within her first month there, she lost 51lbs on a restricted calorie diet. 
Dr. Nowzaradan also made sure her children met with a dietitian to learn about their mother's eating disorder because he wanted to be sure they would no longer enable her addiction to food.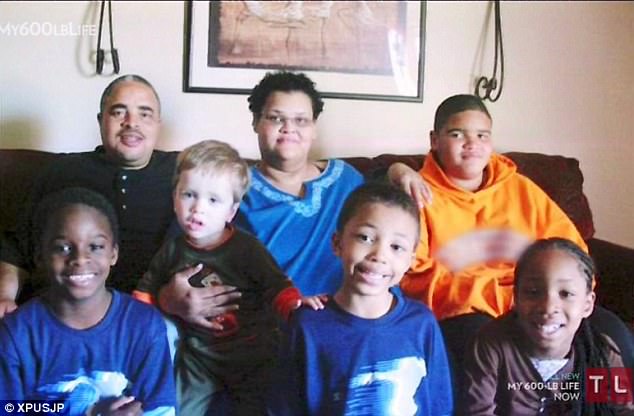 With the love and support of her family, Milla managed to lose another 56lbs on her own, getting down to 644lbs.
After she lost more than 100lbs, Dr. Nowzaradan agreed to perform surgery to remove the massive 43lb lymphedema on her left leg.
But he insisted that Milla must learn to stand on her own before he would perform weight loss surgery on her. 
At the end of the episode, Milla shed a total of 153lbs and stood for the first time in two years after getting down to 597lbs. 
But sadly two months into filming the family was left devastated when Elroy suffered a heart attack and passed away. Milla was inconsolable. 
She later agreed to have physical therapy sessions which enabled her to stand and be weighed. 
At the end of the special, Milla weighing 477lbs, losing a total of 270lbs and having gastric sleeve surgery with the support of her five children.