He was just a kid trying to protect his mom from her abuser.
Now a Bronx teen who fatally choked his mother's ex-boyfriend will not be indicted over the death.
Luis Moux, 18, was arrested in August for the killing of 43-year-old Stanley Washington.
The deadly domestic dispute occurred at around 4.30am. Washington arrived at Lorena Sesma's apartment on University Avenue, NY, to talk to her.
But things quickly got heated.
Sesma and Washington soon began arguing loudly in the hallway.
The 37-year-old woman tried to close her door on her abusive ex, but police say Washington forced his way in and allegedly began beating her.
Sesma's son, Luis Moux, heard the commotion and emerged from his room and rushed to his mother's aid. 
Luis is a 5-foot-8, 220-pound offensive lineman. He was quickly able to pull Washington off of his mother and put him in chokehold.
This caused Washington to pass out, reported CBS New York.
Luis' mother also briefly lost consciousness during the struggle. But eventually she came to and called 911. 
'It was clear that Luis didn't do anything wrong. He testified in the grand jury and his story didn't change a bit,' Luis attorney, Walter Fields, according to NY Daily News. 
'He's going to move on with his life. When you are an innocent man, you just want to move on with your life,' Fields added. 
Washington was taken to a hospital, where he was pronounced dead.
Sesma suffered minor injuries during the altercation but refused medical attention.
According to the New York Daily News, Washington's criminal record included 26 arrests – this included domestic violence charges. In 2014 and 2016 he was arrested for assaulting Sesma.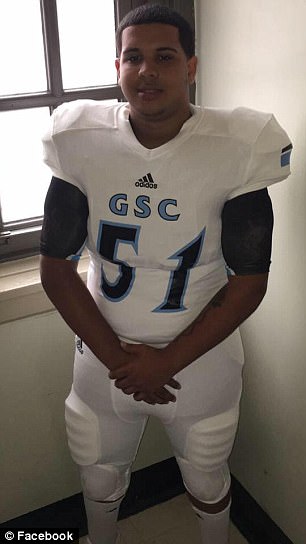 Friends and neighbors describe Luis Moux as a 'good kid' who attended school and was not involved in any gangs.
Luis is enrolled as a junior at Grand Street Campus High School, a charter school in Brooklyn, where he plays on the varsity football team.
Speaking to NY1, a friend of Luis insisted that the teen had not set out to kill Washington, but was merely trying to protect his mother.