You can't not be moved by this little boy and his heartbreaking story.
Two-year-old Hu Haoyang, was diagnosed with hepatoblastoma, a rare form of liver cancer, over a year ago. 
Imagine if this was your child. You would move heaven and earth to make sure he felt as comfortable as possible.
But little Hu Haoyang cries for his mom in his hospital bed as he goes through painful treatment.
His mom is nowhere to be found. She abandoned him because she couldn't cope with his cancer battle.
Hu Haoyang's family come from Yicheng, Hubei Province in central China.
The little boy was first diagnosed with hepatoblastoma in May, 2016, after he was constantly struck down with fevers. 
He received three sections of chemotherapy and had two-thirds of his liver removed at a hospital in Shanghai.
Doctors then successfully cut the tumor, but sadly the cancer returned. Medical experts then suggested his family arrange a liver transplant for the child.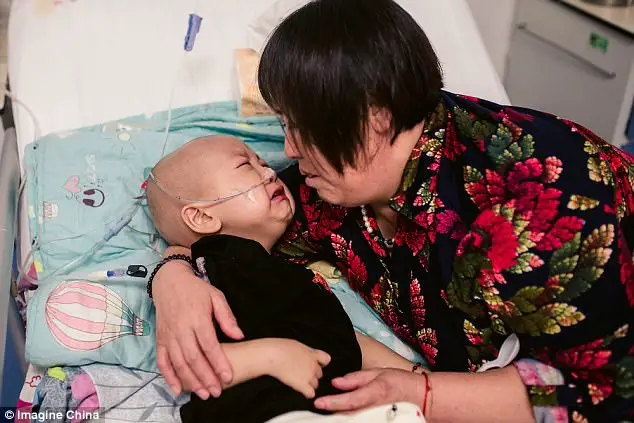 Hu Haoyang was transferred to Bayi Children's Hospital in Beijing, China, where he is watched over by his grandmother.
Meanwhile his father, Hu Xiaofei, is struggling to afford the surgery fees. His child's medical bills have accumulated to one million yuan ($150,000)
But he earns a modest salary as a migrant worker.
In order to cover the bills, the family had borrowed roughly 700,000 yuan ($100,000) from family, friends and even loan sharks.
Hu Xiaofei told a reporter from Yi Photos that his wife had left the family last November when Hu Haoyang, was preparing for his first surgery.
Hu Xiaofei claims his wife stole 200,000 yuan ($30,000) that the family had raised to pay for their son's medical treatment.
She returned the money as the family threatened to report her to the police.
But she left after a week and never came back.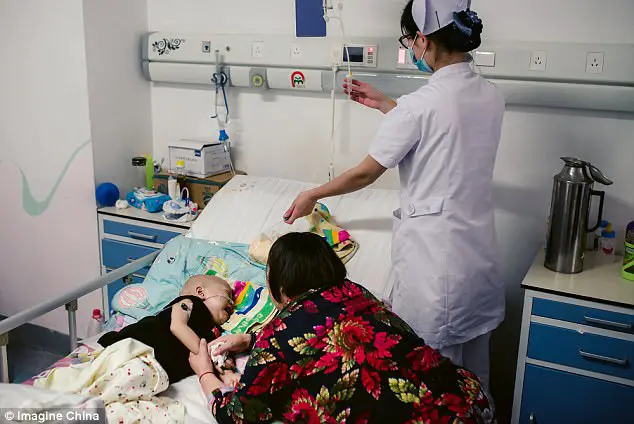 The heartbreaking pictures of little Hu Haoyang crying and looking for his mother have touched people all over the world. 
Hu Haoyang's father did not want to tell his son the truth, so he lied to him by saying: 'Mother is out for work now.'
Hu Haoyang is now being taken care by his father and grandparents.
The brave boy has already undergone over 20 rounds of chemotherapy and nine surgical operations.
Hu Xiaofei said his son was very optimistic in facing the cancer that he would give him a smile before going in the operation room. 
 A donation page was set up to help the family on September 13.
The donation has reached 91 per cent to date, with an aim of 700,000 yuan ($100,000) till December 13.