A burns survivor who sustained life-changing injuries when he was just three-years-old, is inspiring thousands by taking part in a beach photoshoot. 
Ken Matthews is burned on over 90% of his body after being in a house fire which claimed the life of his grandfather. 
The inspirational young man took part in the beach shoot wearing just a pair of Calvin Klein shorts.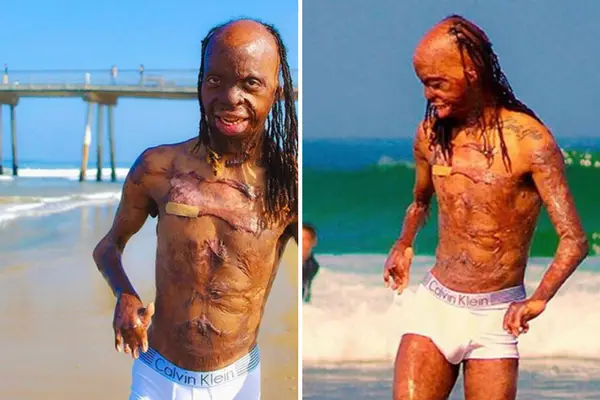 He captioned the photos by writing: "I've decided to do a Calvin Klein photo shoot for myself and set a platform for people that feels low self-esteem when it comes to society…physically."
"I did this shoot because I want to be able to look back at my life once I get older and say, "yo I can't believe I did something like that."
https://www.instagram.com/p/BVqPFDyA4zs/?taken-by=ikendawg
Under the name 'Ken Dawg' the northern Californian native has racked up to 164,000 followers on Instagram. He counts rapper and reality star Cardi B as one of his supporters.
He often speaks about how his burns have affected his life.
Although badly disfigured from the blaze, he tells his fans: "Don't take this as I'm discontent with my current form because I love the s*** out of myself."
https://www.instagram.com/p/BVopMD_A_Oe/?taken-by=ikendawg
Recalling the terrifying incident, he says: "At the age of three I was severely burned in a apartment fire.
"I suffered third degree burns, and I'm just blessed to be here alive right now."
"I remember playing with my toys and watching TV when all of the sudden this big clash hit the living room window and fire rosed up from it," he continued.
"My grandfather was asleep at the time and I had to wake him up because our apartment was on fire."
"I didn't know how to get out the apartment at that time because I was just a baby, so I didn't know how to unlock doors or call the ambulance for help, but at least I did try to do what I had to do which was getting out the apartment the best way I can."
As the fire grew and grew Kenny's grandfather was dying of the smoke inhalation.
Kenny's grandfather decided little Kenny had to go out of the window in order to save his life:
"I had no choice but to go through the fire in order for me to live," Kenny said.
"As I was being carried over the window, the fire burned almost everything on me including my shirt, pants and my complexion," Kenny added.
Although Kenny was able to get out, he says he was left with many scars.
Tragically his grandfather was pronounced dead by the emergency services when they arrived.
Many people would be understandably bitter, but far from self pity, Kenny says he's grateful every day for his lot.
"I'll take a look at my life now and I think to myself like, 'man, I really came a long way'," he said.
"Grandfather risking his life to save mine is like, the biggest blessing that I have felt. I was trapped inside with no where to go except through the window where the fire was rising from."
"I'm actually really blessed to be alive, thank God."
Although he says he's accepting of his scars, Kenny has launched a GoFundMe page for plastic surgery to help the marks and pigmentation on his body.
He explains: "I've seen results of burn victims that have dramatically helped form their bodies back to normal form.
"I've always wondered what my adult features would actually look like without the burn marks."