Kenneth and Charlene Smith of Lexington, North Carolina, have been in love for over 25 years.
In recent times, Charlene has been by her man's side as he battles cancer.
Kenneth, 72, is currently receiving treatment at the Hospice Davidson County.
But things took a romantic turn after Kenneth's sister paid them a visit. She insisted that they wed then and there, or she would refuse to visit again.
But while the wedding might not have been entirely their own idea, the couple made sure the ceremony was.
They both decided to support their favorite football team, the Carolina Panthers, by both wearing Cam Newton T-shirts and Panthers hats.
The hospice shared of photo of the cute couple along a caption that said:
'Today, surrounded by close family and friends Lexington couple Kenneth and Charlene Smith married in the chapel Hospice of Davidson County Hinkle Hospice House where Kenneth is a patient.
'Together for 25 years, the avid Carolina Panthers fans donned their favorite Panther gear to celebrate their love this Valentine's Day'.
The Carolina Panthers themselves, have expressed on social media their joy for the married pair.
On the day of the Smith's wedding, the Carolina Panthers tweeted: 'Thank you Smith family for including us in your special ceremony. We are deeply honored!'
The Panthers head coach, Ron Rivera, even took to his personal Twitter account to congratulate the couple.
He said: 'Congrats and God Bless your marriage Kenneth and Charlene Smith.'
And on Friday, Panthers linebacker Thomas Davis even delivered gifts to the couple and a note from the team's coach.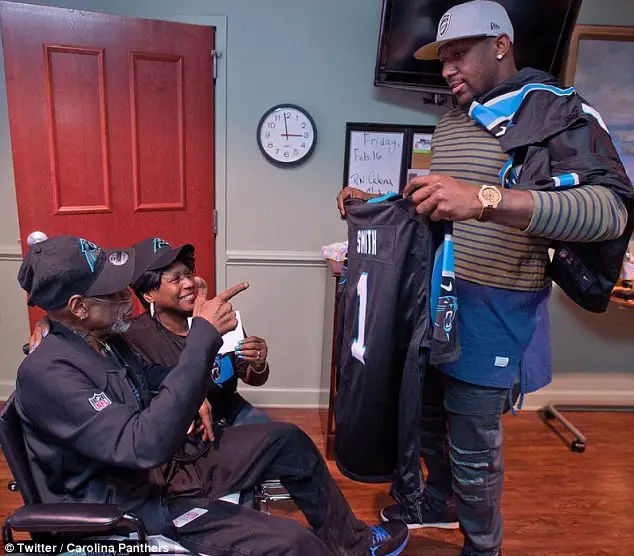 Thomas told The Dispatch: 'It is always important for our fans to know and understand that we love them and care for them.'
Charlene and Kenneth have been fans of the Panthers since they were founded in Charlotte in 1995 and never miss a game.
But Kenneth wasn't used to seeing his favorite players up close and, at first, didn't even recognize Thomas.
Kenneth said: 'It was kind of embarrassing because I didn't know who he was at first but it was very special.'
It was also very special for Thomas who said that he admires Kenneth's positivity and spirit in the face of his cancer diagnosis.
He said: 'I love Kenneth's spirit, love his energy, love the message that he is giving to his family right now.'
'He is just keeping them positive in light of what he has going on. It is truly important to them and their spirit moving forward.'
And Kenneth plans to keep moving forward and his spirits high with the help of God.
Kenneth told The Dispatch: 'I feel great because Jesus is here. If you are sick and going through something, know God has you in his hand. I am thankful.'
Family also shared a string of 'congratulations' messages to the couple along with one family member who posted: 'Aww we didn't even know that they was gonna do this.'