If you thought Cardi B's year couldn't get any better, think again. 
The rapper, who just appeared on the cover of Rolling Stone, is now engaged. 
Cardi, real name Belcalis Almanzar, said yes to boyfriend Offset after he proposed on stage on Friday night.
The pair were performing to a packed crowd at Power 99's Powerhouse in Philadelphia when he popped the question.
The 25-year-old screamed and jumped for joy when the Migos' member dropped to one knee.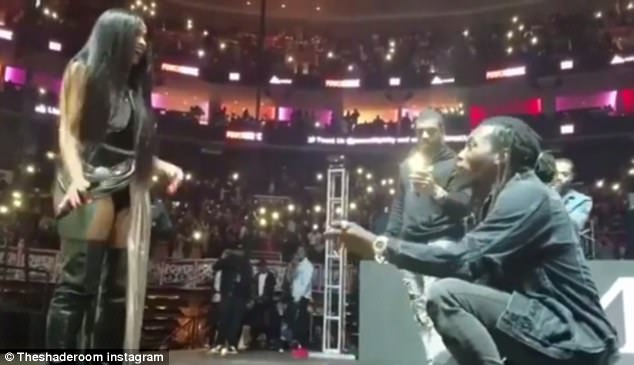 A video captured the touching moment as fans screamed in approval. The newly engaged couple hugged it out after Offset put the ring on his lady's finger. 
'Jesus Christ I'm so emotional, @offsetyrn I loveee you so much,' Cardi declared on Instagram shortly afterward, showing off her enormous new ring.
'Thank you for seeing the potential in me since you met me. For giving me advice molding me and loving me.'
'Your such a amazing man to me your family, friends, kids and you are extremely talented,' she added. 'I can't wait to spend FOREVAAAA with you.'
She finished: 'Lets make a lot shmoney and love together.'
The couple have been dating since earlier this year and recently got back together after a short split. 
But person who didn't immediately seem happy with the news was Offset's baby momma Oriel Jaime.
'Congrats to my son daddy and his step mother whom he have yet to meet,' she wrote on Instagram. 'Hopefully he at least get an invite to the wedding.'
After some backlash from Cardi B's fans, she made sure to add in a second lollipop emojied post: 'Furthest thing from bitter.'
Check out more videos and photos below: