Rihanna is slaying on the cover of Vogue Arabia!
The 29-year-old star channels Queen Nefertiti – one of Egypt's most-glorified figures.
The 'Stay' songstress models a striking reptile print jacket, as well as Nefertiti's iconic blue headpiece. The Bajan beauty sports bold blue eye-make up and a nude baby pink lipstick. 
The magnificent shoot was shot by Greg Kadel. 
RiRi looks sensational in a semi-sheer embellished dress, which is paired with a sophisticated blue coat.
The chart-topper also adds a touch of street style by rocking a long blue hoodie over her glamorous ensemble.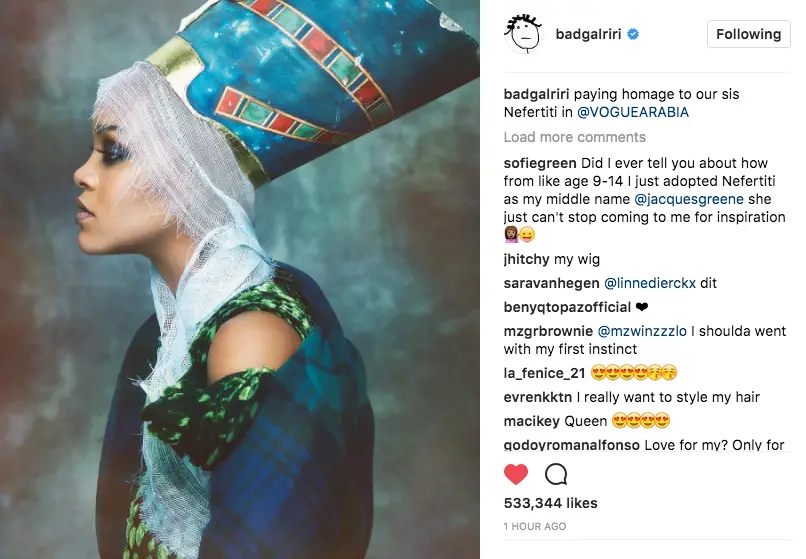 The singer is said to idolize Queen Nefertiti and even has a tattoo of her on the side of her ribs. 
Queen Nefertiti, ruled Egypt alongside her husband Pharaoh Akhenaten, almost 3,500 years ago. 
Despite her reign dating back thousands of years, Neferneferuaten Nefertiti remains one of the Middle East's most beloved icons.  
The queen had a very active role in the country's politics making her one of the most powerful women in history. 
However her death is still shrouded in mystery.
At the beginning of the 20th century, German Egyptologist Ludwig Borchardt and his team discovered a painted limestone bust of the Queen in Amarna. 
It was found in the ruins of workshop of court sculptor Thutmose, and was described by German Egyptologist Ludwig Borchardt as "the most alive Egyptian artwork."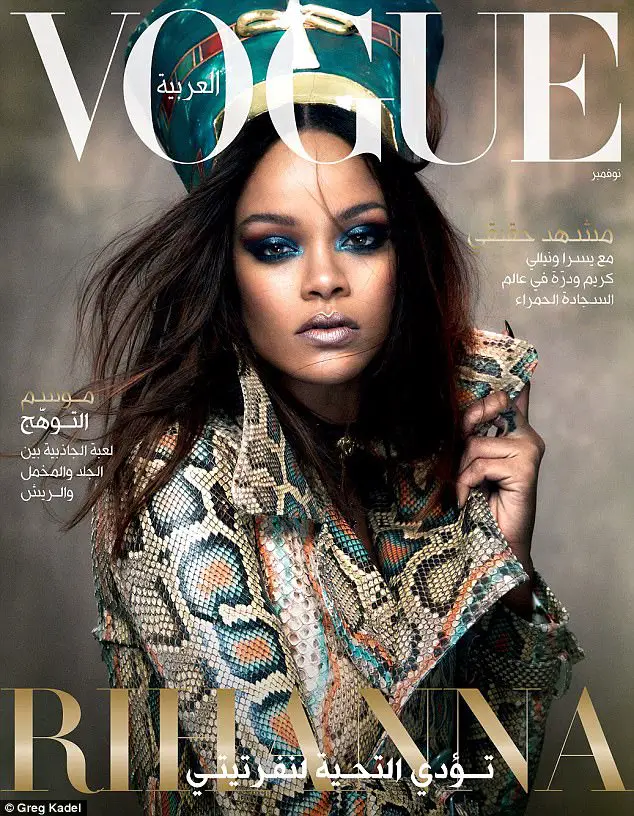 Speaking about the incredible shoot, Vogue Arabia editor Manuel Arnaut said: 'We are dedicating the issue to strong and dynamic women who are changing the world.'
'Rihanna, our cover star, is one of them.'
Not only is she one of the most successful pop icons ever, shaping the entertainment industry with her powerful tunes and unique sense of style, she is also an advocate for diversity.'
'With a crown designed by Faeth Millinery, Rihanna pays homage to this unforgettable queen, who still reigns as one of Ancient Egypt's most celebrated figures.'