Selena Gomez was no more than a cute kid when she made her television debut on Barney.
Since then she has become the nation's sweetheart. The starlet has had numerous roles in TV and movies, not to mention a glittering music career.
But as her career has gone from strength to strength, Gomez has been struggling personally. Last month, she shocked fans when she revealed she had secretly undergone a kidney transplant.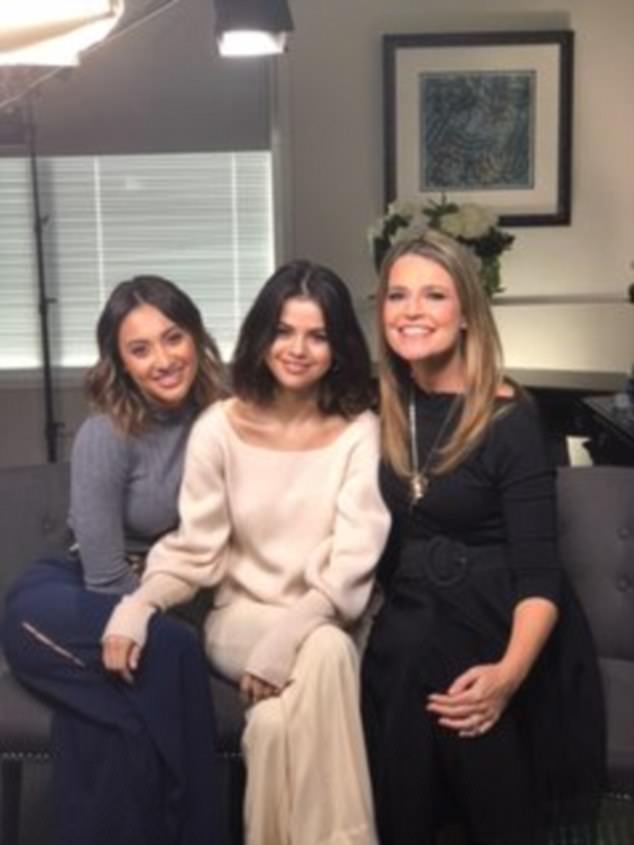 Now Gomez, and the best friend who selflessly gave her the organ, have revealed more about the life saving operation. 
The 25-year-old fought back tears as she told Savannah Guthrie on Today how she would have died had it not been for Francia Raisa, 29.
Raisa volunteered to give one of her kidneys up when Selena's went into failure in May. 
'It was really kind of life or death,' Gomez, who is battling lupus said. 
Gomez, who has since been seen working on a Woody Allen film, also revealed that she did not want to ask 'a single person' for the organ.
'My kidneys were just done. That was it and I didn't want to ask a single person in my life.'
'That was the day I came home and she volunteered, she did it,' Selena said solemnly. 
When Guthrie probed: 'You feel like Francia saved your life?' the singer responded without hesitation: 'Because she did. That's it.' 
But the 'Wolves' singer's body did not initially accept the kidney.  When Gomez was wheeled into her recovery room, she immediately realized something was wrong.   
'I started to attempt to fall asleep, and in the middle of that process, I started hyperventilating and there was so much pain,' said Gomez. 
'My teeth, I was grinding. I was freaking out.'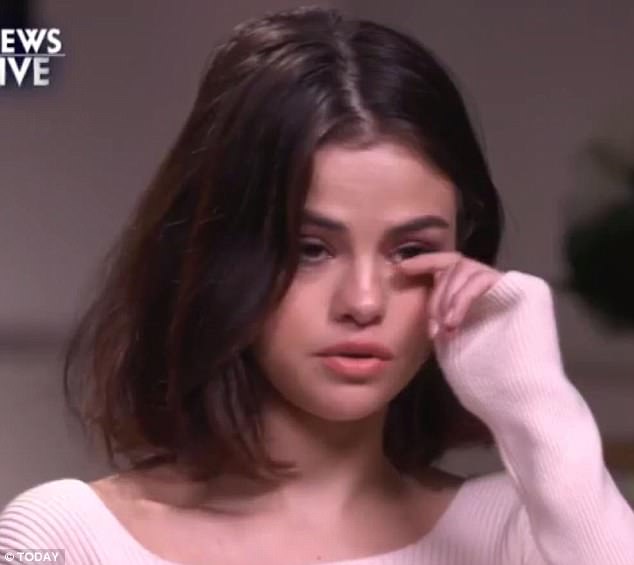 Gomez was then rushed in for a six-hour surgery, with doctors quickly realizing her kidney had begun to turn around in her body.
'Apparently one of the arteries flipped,' Gomez explained to Savannah Guthrie.
'I'm thankful there are people that know what to do in that situation.'
Both Gomez and Raisa had lengthy recovery process. It left the two with little to do but sit or lay around as their bodies healed from the surgery.
Gomez made sure that she and Raisa were together during their recovery. The pair also had a strong support system. 
 'You're on bed rest, you're allowed to walk an hour a day,' explained Gomez.
'You can't do any stairs or play anything crazy.'
Raisa then added: 'I constantly needed to ask for help. I think one of the most humbling experiences was needing help to put on underwear.'
She also noted that girls were unable to shower.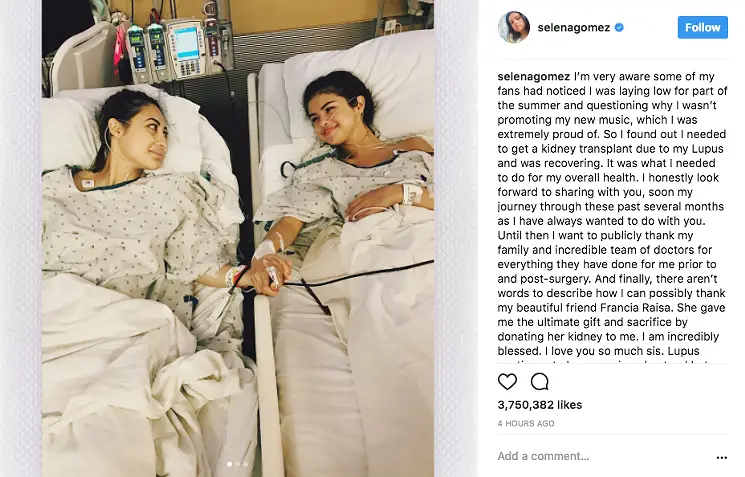 Gomez also planned a special day for the two before surgery. 
The besties had a sleepover where they french braided each others hair and 'stuffed their faces' prior to midnight. At which point they were not allowed to eat any food.
Right before the surgery, the two girls gave one another the peace sign before being wheeled off to the operating room. 
Gomez, who has a dedicated Instagram following of 128 million, revealed she had a transplant on September 14.
The former Disney star shared a photograph of her and Francia in their hospital gowns holding hands. 
'So I found out I needed to get a kidney transplant due to my Lupus and was recovering. It was what I needed to do for my overall health,' she said candidly. 
Selena thanked her friend, calling her 'sis' and crediting her with saving her life. 
'There aren't words to describe how I can possibly thank my beautiful friend Francia Raisa.
'She gave me the ultimate gift and sacrifice by donating her kidney to me. I am incredibly blessed. I love you so much sis,' she wrote. 
Her announcement saw a wave of donations to The Lupus Research Alliance: $500,000 was raised in response, the highest amount it has ever received.