After much speculation, our favorite Instagram personality turned rapper, Cardi B, announced on Saturday Night Live she is pregnant.
Wearing a custom Christian Siriano that highlighted her protruding baby bump, the "Be Careful" artist exclaimed after her performance, "I'm finally free!"
Cardi was clearly proud to show off her visible belly in the stunning white dress.
The former Love & Hip Hop star has been denying rumors that she's expecting a child with her fiancé, rapper Offset, for months.
According to TMZ, Cardi is due in early July, which would make her approximately six to seven months pregnant.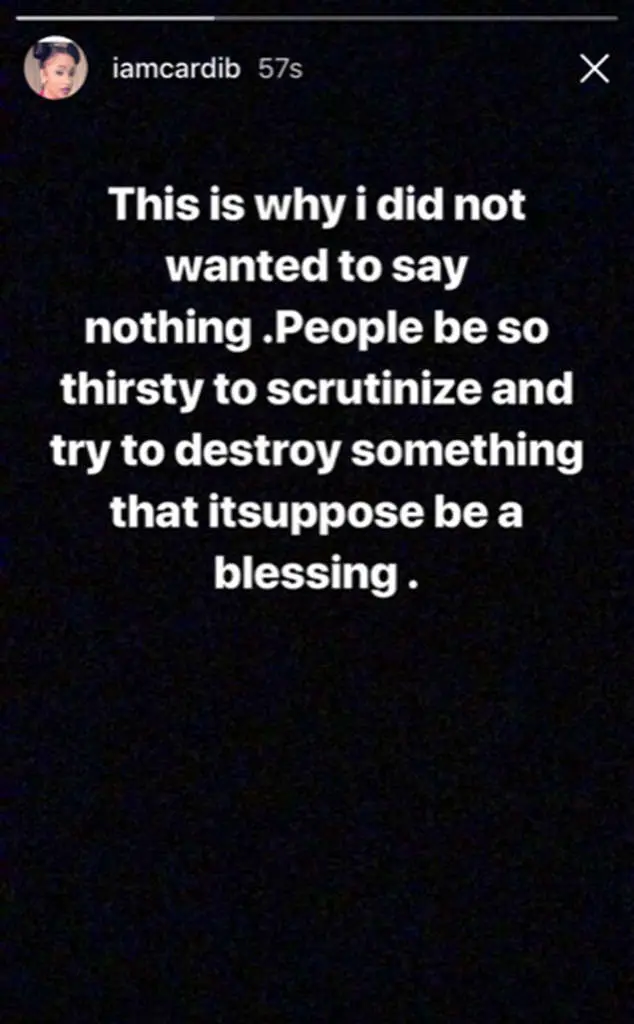 Instagram
In a now-deleted Instagram Stories post, she revealed why she waited so long to make her big announcement.
After many questioned why she would get pregnant when her career is just taking off she vented:
"This is why i did not wanted to say nothing."
"People be so thirsty to scrutinize and try to destroy something that itsuppose to be a blessing," the Grammy nominated artist wrote.

Instagram
This will be Cardi's first child.
Offset, who proposed to her last October, has three kids from previous relationships.
"T H A N K Y O U F O R A L L O F Y O U R S U P P O R T," he wrote on Instagram on Saturday, alongside a throwback photo of him with Cardi. "W E F E E L S O B L E S S E D."