Khloe Kardashian is due to give birth to her first child in days.
But numerous reports have emerged of her boyfriend, NBA star Tristan Thompson, cheating.
A woman seen locking lips with the Cleveland Cavaliers player has been identified on social media as a New York strip club worker.
Lani Blair allegedly kissed Thompson while he was at PH-D Lounge, a rooftop bar in Manhattan on Saturday night.
The same woman would later be featured in photos with the basketball player as the two made their way to the Four Seasons in New York City.
The pictures shows the woman, believed to be the Bronx Instagram model, walking alongside Thompson.
Blair tried to go incognito in an all black ensemble as she made her way indoors.
The pair were said to have been together for four hours before Thompson was seen again with a new outfit.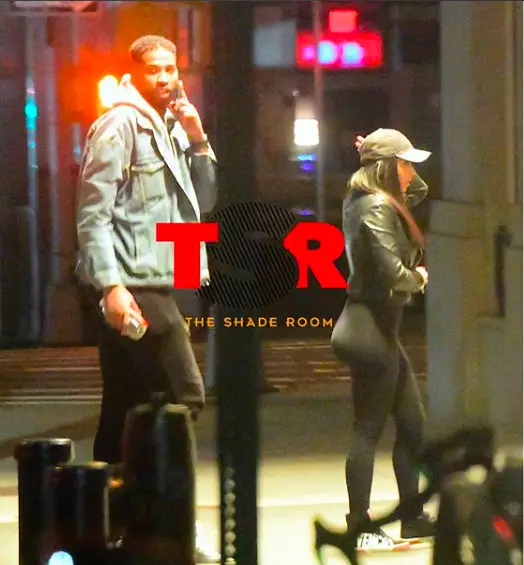 They were then seen headed to the private club, Soho House, before making their way back to the hotel early Sunday morning, according to Page Six.
Blair, was then seen leaving the hotel on Monday night with an overnight Louis Vuitton bag.
Blair made her Instagram private shortly after it became dragged over her alleged infidelity with Thompson.
The strip club where she works advertised that Blair was due to work Tuesday night, however she failed to go in.
It comes as surveillance video recorded on October 7, 2017 at a hookah lounge near Washington D.C. also emerged.
27 year-old Thompson is seen getting up close and personal with two beauties.
Thompson makes out with one of the women before the other grabs his head and motorboats her breasts with it. She also can be seen grabbing his crotch.
Thompson, who plays for the Cleveland Cavaliers, had Saturday night off from basketball.
His team, led by LeBron James, played in Philadelphia on Friday night, and weren't scheduled to play another game until Monday, against the New York Knicks in Manhattan.
Following a win in Monday's game, the Cavaliers captured a Central Division title, which could mean more travel for Thompson as playoffs get underway.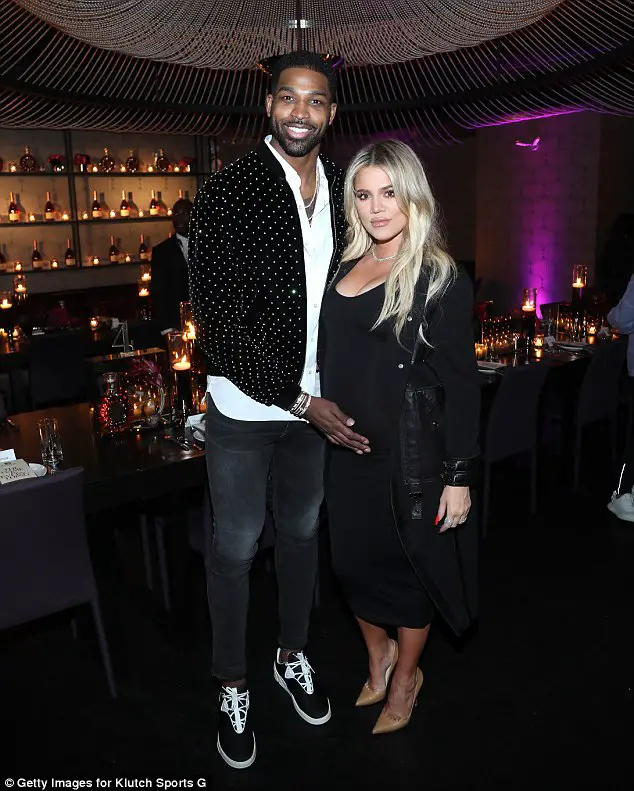 Thompson was previously accused of breaking up with his ex-girlfriend Jordan Craig while she was pregnant.
Their son, Prince, was born in December 2016.
'If you respect yourself and you respect others, you would never make light of the misfortune of anyone,' Jordan Craig said on Instagram Tuesday.
'Nor would you feel indemnified when it comes at the expense of others. Wishing peace for everyone.'
Another notable who had her own words to say was Amber Rose, who was listed as a follower of Lani Blair's on Twitter, but seemed to be in support of Kardashian.
'I know we've had our differences in the past but my heart is broken for you sis smh no one deserves to feel that pain especially during such a sensitive time,' she posted on Instagram.