Ever since Cardi B and Offset got together they have been making headlines.
Now the couple are engaged to be married, Offset has decided to get a permanent dedication to his ladylove.
The Migos rapper got a huge Cardi B tattoo on his neck and showed it off for his 5 million Instagram followers on social media over the weekend.
The fresh new ink was done in the style of her logo.
It was placed under another tattoo of the character Buttercup from popular late Nineties, early-2000's cartoon The Powerpuff Girls.
In the short clip, Cardi's hands could be seen combing Offset's hair back to show off the fresh inkings.
Offset, 26, is a member of platinum-selling, Atlanta-based hip hop trio Migos.
The 'Bodak Yellow' hitmaker was famously proposed to onstage at Power 99's Powerhouse concert in Philadelphia last October.
The impressive huge 8-carat diamond ring stunned fans.
In one of her posts she could be seen flashing the bling with the caption:
'Jesus Christ I'm so emotional, @offsetyrn I loveee you so much .Thank you for seeing the potential in me since you met me .For giving me advice molding me and loving me.'
BET
'Your such a amazing man to me your family ,friends ,kids and you are extremely talented.I can't wait to spend FOREVAAAA with you .Lets make a lot shmoney and love together
But their love story has been beset with cheating rumors.
The former Love & Hip Hop star recently explained to fans that she plans to stay with Offset despite his alleged infidelity because 'a good man is hard to find.'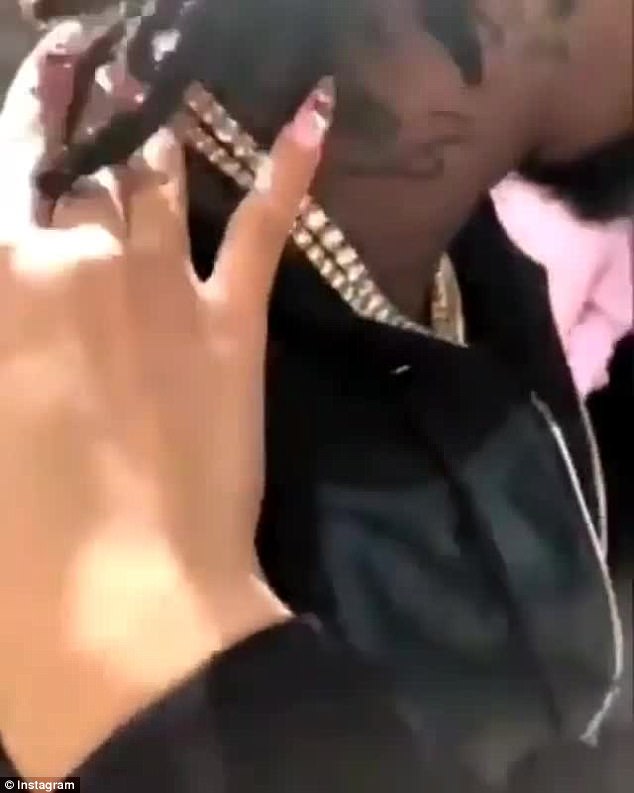 Offset has been accused of getting another woman pregnant. But he has vehemently denied the allegations – even going as far as suing the lady in question.
But what was difficult to deny, are two alleged sex tapes featuring Offset and another woman.
The videos are still circulating online.
Some fans on Twitter called for Cardi B to end their engagement however the 'Finesse' rapper had a direct message to her fans.
In a now-deleted tweet, she wrote:
"I'm going to make a decision in my own times with my heart and mind. I don't need to be rushed or be told what to do. Its my life! I belong to me not to the world."
Meanwhile, Cardi B is currently working on her debut album.
She will be performing at the 60th Grammy Awards, where she is nominated for two awards for her single Bodak Yellow: Best Rap Performance and Best Rap Song.