A huge congratulations to Ciara who has become one of the faces of jewelry brand Pandora!
But what is the singer's favorite piece of jewlery?
'I would say that my engagement ring is very special to me,' Ciara said before detailing the dog tags, which have her children's birth on them.
'I have matching dog tags with my hubby.'
'I got one for him for Father's Day. It has the kids' birth dates on it. I have one too, and it has the kids' birth dates, and it's very special to me as a mom.'
Ciara's dog tag reads 'SPW 4.28.17' and 'FZW 5.10.14', corresponding to her daughter and son's initials and birth dates.
She and Russell were spotted wearing the matching tags just last week, while watching a game between the Orlando Magic and the Los Angeles Lakers at the Staples Center in LA.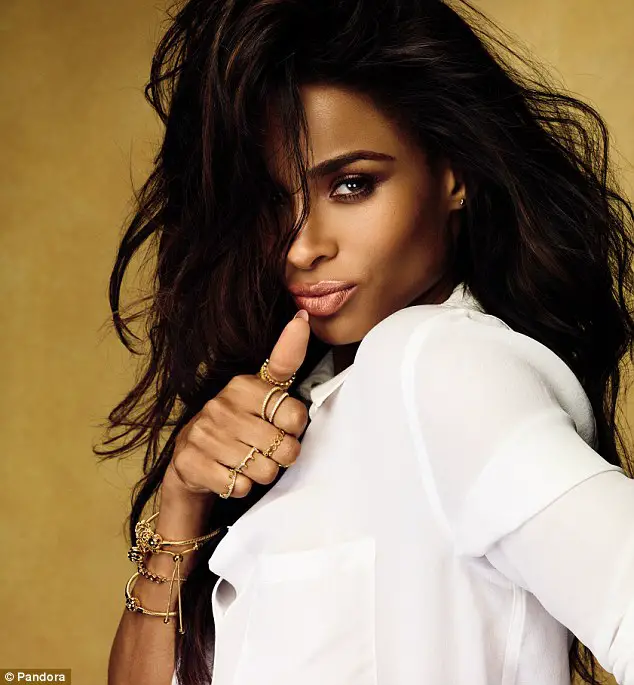 Ciara's makes her debut as an ambassador for Pandora, in a stunning campaign for the brand's Shine Bright collection.
Campaign photos show the gorgeous singer posing with rows of bracelets, rings, and necklaces.
Other shots see her posing in a sultrier, shimmery gown with a shawl wrapped around her arms.
'I was super honored and excited when I got the phone call that they wanted me to be a part of the campaign,' the singer said.
'One, I was a fan of the brand growing up. But also, the jewelry is incredible. It's an 18-carat-gold-plated sterling silver collection, which is cool because they've never done this before.'
The inspiration behind the collection also resonated with Ciara personally.
'It's all about shining bright and feeling bright and expressing yourself creatively,' she said. 'I was really, really excited about that part too. That's what I'm about and it's awesome.'