Gladys Johnson should be looking forward to Christmas with her five-year-old daughter Za-Kira.
But they were cruelly and senselessly taken away from this world by a man who should of known better.
Todd Moyer, 37, a Michigan State University athletics coach, was texting and driving when he slammed into the rear of a car.
He killed the mom and daughter instantly.
He faces up to 15 years in prison for the fatal crash which took place around 2.30pm on July 14.
Moyer was driving southbound on US 23 in Summerfield Township, Michigan when the chain-reaction crash took place.
Police say Moyer drove his car into the rear of a Hyundai Elantra.
Both the driver of the Hyundai, 35-year-old Gladys Johnson, and her five-year-old daughter, Za-Kira Johnson, died at the scene.
Za-Kira Johnson was sitting in the back seat.
Moyer was charged Monday with one count of reckless driving causing death.
Moyer had his driver license suspended as part of the terms of his bail.
But surprisingly the coach was still permitted to travel out of state because of his work for the MSU men's basketball team.
However he did not travel with the team on Tuesday to Chicago, where the Spartans are scheduled to play against Duke at the United Center.
'In light of the criminal charges filed today, Todd Moyer, an associate strength and conditioning coach, is not traveling with the men's basketball team to Chicago,' MSU Athletic Director Mark Hollis said in a statement.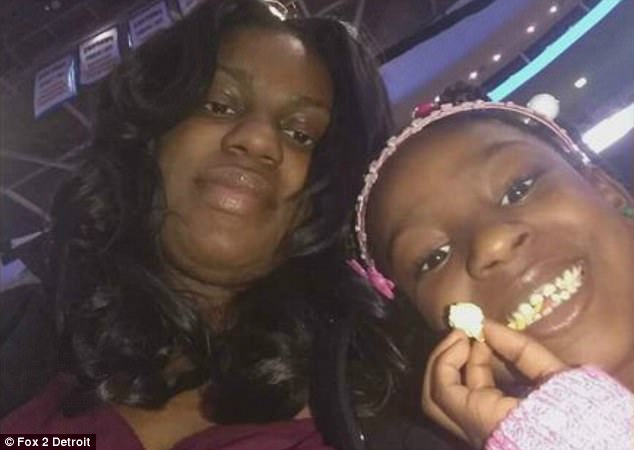 'As the court proceedings continue in this tragic situation, the Athletics Department will monitor the case and gather more information before any further personnel decisions are made.'
Gladys Johnson's sister-in-law, Dushawna Dickinson, says she is in shock over the sudden loss.
'[Gladys Johnson] was a wonderful mother – always thinking of others before herself,' Dickinson told ClickOnDetroit.com.
'She was just a sweet person.'
'Her smile would light up a room,' Dickinson said. 'She was just beautiful.'
Tom Izzo, the head coach of the Spartans' men's basketball team, released a statement after the crash.
'We are aware of the July 14 fatal accident in Monroe County involving Todd Moyer, associate strength and conditioning coach,' the coach said.
'Our thoughts and prayers go out to the victims' family during this difficult time.
'I can't imagine the pain they are feeling in losing two family members so tragically and so suddenly.'