Cuba Gooding Jr. is being investigated by the police.
The Oscar-winning actor allegedly groped a woman's breast while drunk at a New York City nightclub, according to Page Six.
Sources say The People Vs O.J Simpson star acted inappropriately towards the unnamed woman on Sunday night.
He reportedly spent the day at the Magic Hour Rooftop Bar which is inside the Moxy Hotel in Times Square. 
The distraught woman called 911 at 1am to report it after bringing the actor a glass of water because he was so drunk. 
A well placed source in the New York Police Department reportedly told the Daily Mail the woman was trying to be a "good Samaritan."
"The woman who alleges she was assaulted by Cuba Gooding Jr. said she brought a glass of water to Cuba because he was intoxicated when she saw him at Magic Hour."
"It was at that point he grabbed her breasts," they said. 
After the alleged incident Gooding Jr. flew to California. But the police source claims he will be arrested when he returns to New York.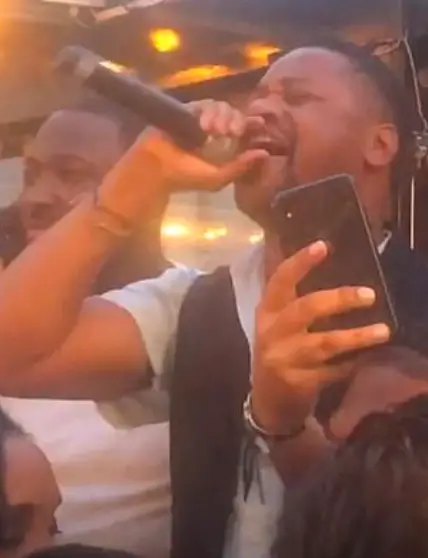 Social media videos show the Hollywood actor sipping cocktails and singing for the crowd. 
In some videos, he was filmed happily singing  Journey's "Don't Stop Believing" and  "Faithfully" into a microphone.
A witness told Huffington Post that Gooding appeared "happy" as he talked to other clubgoers.
"He was super good … sang with everyone," the partygoer said.
Gooding Jr. has three children with his ex-wife.
The actor was married to his high school sweetheart Sara Kapfer until they separated in 2014.
The Jerry Maguire actor was with Kapfer for 20 years before they split. Over the last five years, they have tried to settle the divorce but it remains unclear if it has been finalized. 
Gooding, 51, was accused of a similar assault by women at a New Mexico bar in 2012. He called those allegations "bullsh*t."