This is truly the sweetest photo ever!
After feeling insecure about having vitiligo, an eight-year-old boy has met a dog with the same skin condition as him.
The two have now formed an adorable and special bond.  
Little Carter Blanchard, from Arkansas, has white patches around his eyes and across his body.
This is due to a lack of the skin pigment melanin.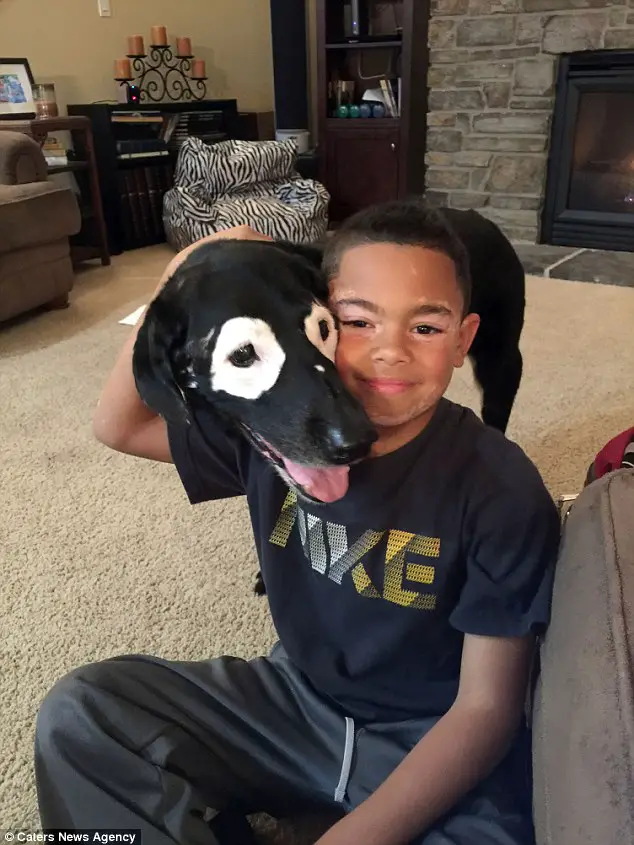 Carter's mother, Stephanie Adcock, says the appearance of Carter's skin had shattered the young boy's confidence.
But after seeing a photo of 14-year-old dog Rowdy online, the loving mom contacted its owner Niki Umbenhower, who lives in Oregon.    
The two built a long-distance relationship over a year.
They met for the first time last Saturday after donations from the public helped fund the trip.
The dog's owner Niki, 48, said: 'In all honesty, it was as if they had known each other forever.'
'Carter walked right in, took off his jacket and just knelt down and started petting him.'
'He was on the floor playing and Rowdy just kept walking around him and laying down by him.
'He even barked and hopped around because of all the energy and excitement in the air.'
Both Rowdy the dog and Carter were diagnosed with vitiligo in 2014. 
Niki explains: 'Stephanie always shows Carter stuff I've posted online.'
'I do some stuff on all Rowdy's social media sites and he sees it then makes comments.'
'Stephanie will email or text me what he said. We do Facetime as well.'
'Because of how close we have grown over the miles, when they walked through the door it honestly felt like they had met a million times over.'
The story of the dog and the little boy with vitiligo has since reached an incredible new milestone after it was featured on the news.
Rowdy's social media presence has since 'snowballed' with his Instagram account now having in excess of 80,00 followers.
Niki says: 'I want to do whatever I could to continue helping Carter see himself like people saw Rowdy.'
'We've helped Carter do a 180 in the way he views his skin and we want to do that for as many kids and people as we possibly can.'