Talk about Melanin Magic!
A proud Nigerian man has gone viral with his medical family on social media.
The married man, who is based in the United States, shared photos of his beautiful family in which every member is a doctor.

Instagram
According to the handsome young doctor he has two sisters and one brother.
His mother is a family physician, his sister is a family nurse practitioner and his other sister and brother are both doctors in training.
The male doctor is a radiologist and is married to a beautiful young woman who is a pediatrics doctor.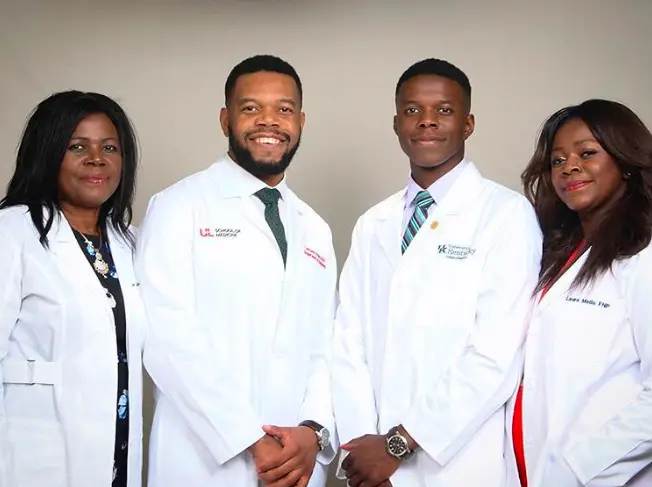 Writing on social media, the man who goes by Law U on Instagram, wrote: "The women in my life. From L-R Dr. Mom (Family Medicine), Sister (Family Nurse Practitioner), Dr. Wife (Pediatrics), Dr. Sister (Cardiology), Sister (MS3)."
"A beautiful woman is a beautiful woman, but a beautiful woman with a brain is a lethal combination."
In another post shared by the radiologist, he revealed that the medical family try as much as possible to give back to the community.

Instagram
During the Christmas period his family members came back to Nigeria to provide medical care to those in need.
Law wrote on Instagram: "Today my family took time to give back to the community. We spent time providing medical care to the people in our village."

Instagram
"We have been blessed and it definitely felt good to touch multiple lives this Christmas season. We have plans to do very big things and by Gods grace, we will achieve them."
"Thank you to everyone that participated. It was an amazing and humbling experience."