Eminem has been heaped with praised online after he unleashed a tirade against Donald Trump.
The 'Lose Yourself' did a freestyle rap at the BET Hip Hop Awards on Tuesday.
The rapper trashed the President for his stance on immigration, the Alt Right, NFL, gun control and his response to the hurricane in Puerto Rico. 
Te 44-year-old praised Trump's predecessor Barack Obama, who he gave 'props' to as a far better alternative to the 45th President of the US.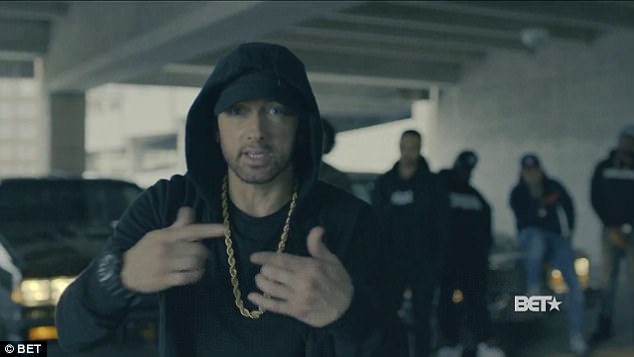 He rhymed: 'But we better give Obama props/ Cause what we've got in office now's/ A kamikaze that'll probably cause a nuclear holocaust.' 
Other shots included: 'Plus he gets an enormous reaction/ When he attacks the NFL so we focus on that and/ Instead of talking Puerto Rico or gun reform for Nevada.'
'All these horrible tragedies and he's bored or would rather/ Cause a Twitter storm with the Packers.'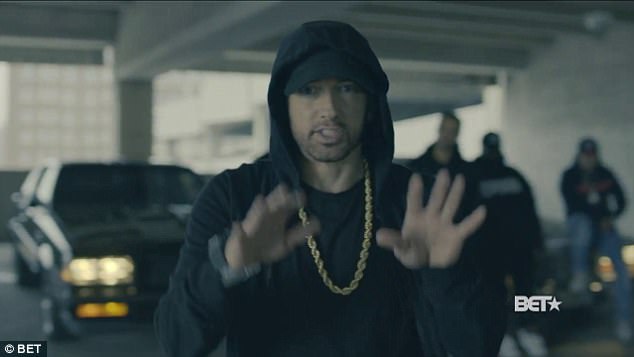 The Lose Yourself rapper also slammed Trump's criticism of war hero Senator John McCain and the way he handled the white supremacist march in Charlottesville. 
The Oscar winner also waded into the NFL national anthem protest saga. He threw his support behind player Colin Kaepernick.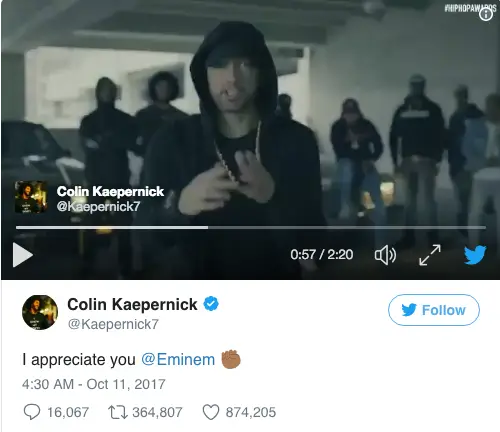 Kaepernick was the first to take a knee during the National Anthem at NFL games. He did so to highlight inequality and also the brutality black people face from the police. 
A host of famous names, including basketball player LeBron James and rappers Snoop Dogg and Diddy tweeted out their support for Eminem.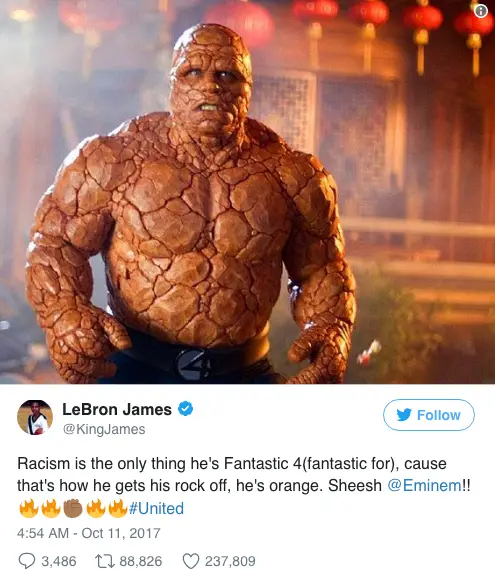 Eminem, aka Marshall Mathers, concluded his rant by saying: 'And any fan of mine who's a supporter of his/ I'm drawing in the sand a line.'
https://www.instagram.com/p/BaFuxnWjk-W/?taken-by=snoopdogg
'You're either for or against/ And if you can't decide who you like more and you're split/ On who you should stand beside/ I'll do it for you with this.'  
'F**k you.'
Meanwhile Eminem's next album is reportedly nearing release. His producer Mr Porter announced last week: "We are done".
The president is yet to respond to Em's rap – but I'm sure his Twitter fingers are itching…