The biggest pop diva of all time coupled up with the greatest rapper of all time.
Sounds like a match made in heaven right?
But it has now emerged that Tupac Shakur prematurely called time on his relationship with Madonna because she was white. 
TMZ has obtained a handwritten letter penned by the late rapper from his prison cell. The letter is set to go under auction later this month at Gotta Have Rock and Roll with a starting bid of $100,000.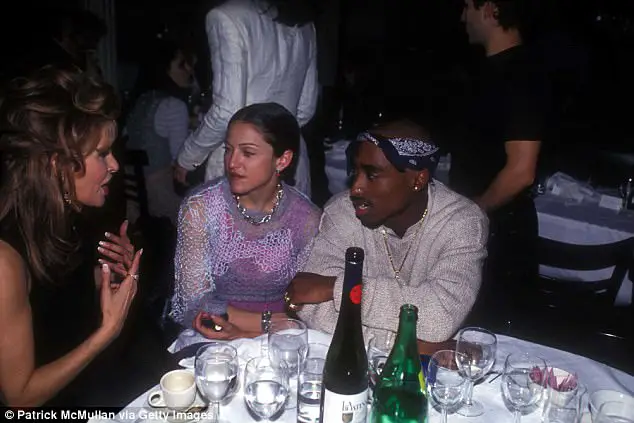 The emotional note, was penned by the much missed 'California Love'  lyricist when he was 24 years old.
It was reportedly sent to Madonna, now 58, when he decided to end their romantic relationship. The letter is dated on January 15 1995. This was when Tupac was serving time at the New York State Department of Corrections in 1995.
Just 18 months later he was gunned down and killed. It gives a close insight into his relationship with the Material girl singer, then aged 37.
Trying to explain to Madonna why he called time on their relationship, the rapper wrote: 'For you to be seen with a black man wouldn't in any way jeopardise your career, if anything it would make you seem more open and exciting.'
'But for me, at least in my previous perception I felt due to my 'image' I would be letting down half of the people who made me what I thought I was.'
The rapper, whose mother Afeni Shakur was an active member of the Black Panther Party activist group wrote, adding:  'I never meant to hurt you.'
'Can you understand that?' he added.
In 2015 Tupac's brother Mopreme Shakur confirmed that his sibling had dated the Queen of Pop.
He revealed that it began with a 'passing of a note' during the press day of Pac's film Above The Rim in 1993.
But by the time the letter was written in 1995, things had clearly gone left between the A-List couple.
Tupac's note began: 'I've waited a long time 2 finally write this.'
'Mainly because I was struggling to find all the answers so that I wouldn't leave any unanswered questions.'
'First and foremost I must apologize to you because like you said I haven't been the kind of friend I know I am capable of being,' he said of their relationship.
Appearing to address Madonna's infamous unfiltered mouth, he continued: 'An interview where you said 'I'm off to rehabilitate all the rappers and basketball players' or something to that effect, those words cut me deep, seeing as I'd never known for you to be with any rappers besides myself.'
'It was at this moment out of hurt and natural instinct to strike back and defend my heart and ego that I said a lot of things.' 
'In the time since, as you can see, I have grown both spiritually and mentally,' Tupac added.
'It no longer matters how I'm perceived. Please understand my previous position as that of a young man with limited experience with an extremely famous sex symbol.'
Appearing to want to make amends, Tupac went on to offer an olive branch to the 'Papa Don't Preach' singer.
'I offer my friendship once again this time much stronger and focused. If you are still interested I would like to further discuss this with you but some of it couldn't wait.'
Proving his caring side, the 'Do 4 Love' rapper added: 'PLEASE BE CAREFUL MADONNA.'
'Everyone is not as honourable as they seem. There are those whose hearts bleed with evil and envy'.
In an ominous message Tupac, who had previously survived being shot five times, before being gunned down a year and a half later, added: 
'They would not hesitate to do you harm let my five bullets be proof of that!' 
'Ps If there is any information you can share with me regarding Jack and crew please do, it could well be a matter of life and death.'
'Always, Tupac.'
'I don't know how you feel about visiting me but if you could find it in your heart I would love to speak face to face with you.'
'It's funny but this experience has taught me not to take time for granted,' the poet and rapper finished his heartfelt letter. 
In 2015 Madonna confirmed she had dated Pac. But she remembers their first meeting differently than Tupac's brother. She recalls being introduced to him by Do The Right Thing actress Rosie Perez.
'One time I was mad at [Letterman] when I said the f-word a lot, but the rest of the time I was good,' Madonna said in an interview with Howard Stern on his SiriusXM radio show.
'I was in a weird mood that day. I was dating Tupac Shakur at the time, and he had got me all riled up about life in general. So when I went on the show I was feeling very gangster.'
Tupac's brother says Madonna gave him a note to give to the rapper.
'She gave me a note to give to him. [I didn't read it,] I was just happy she was giving him a note. Everybody was there, I went over and gave it to him.'
'He was about the business and then they linked up. I would take him to her house and s**t when we got back to L.A. Yeah. They were a thing for a minute.'
A photo taken at a Vogue dinner in New York City the following year shows the 'Into The Groove' sitting at the same table as Tupac in 1993. They were surrounded by stars including Sting and Gianni Versace.
The letter that Pac wrote to Madonna is due for auction in mid July, it is expected to fetch a sizeable sum. 
In 2015 another handwritten letter by Tupac went up for sale for $225,000. 
Tupac Amaru Shakur was known by his stage names 2Pac and Makaveli has sold over 75 million records worldwide – making him one of the best-selling music artists of all time.
His album All Eyez On Me was one of his biggest hits, including political, racial messages as well as themes around the hardship of inner cities and his life.
However his success soon triggered an East Coast–West Coast hip hop rivalry, that led to a contentious relationship with The Notorious B.I.G. and the label Bad Boy Records.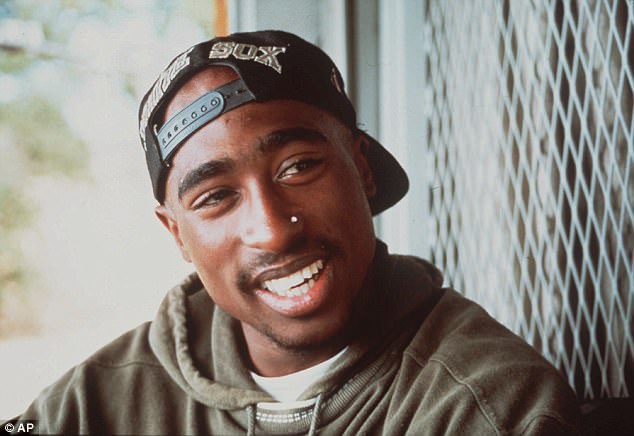 The tragedy struck On September 7, 1996.
Shakur was fatally shot in a drive-by shooting at the intersection of Flamingo Road and Koval Lane in Las Vegas. The murder occurred soon after attending a Mike Tyson boxing match at the MGM Grand with Death Row Records founder Suge Knight.
Pac was taken to the University Medical Center of Southern Nevada, where he died six days later. 
Sadly-one has ever been charged with his murder.