She may be a grandmother, but she can whoop your behind with the best of them.
I pray with all my heart that I can be half as strong and half as youthful looking as Ernestine Shepherd when I reach the grand old age of 81.
You see, the beauty from Baltimore has been crowned by the Guinness Book of World Records as the oldest competitive female bodybuilder ever.
She told the Washington Post simply: 'Age is nothing but a number'.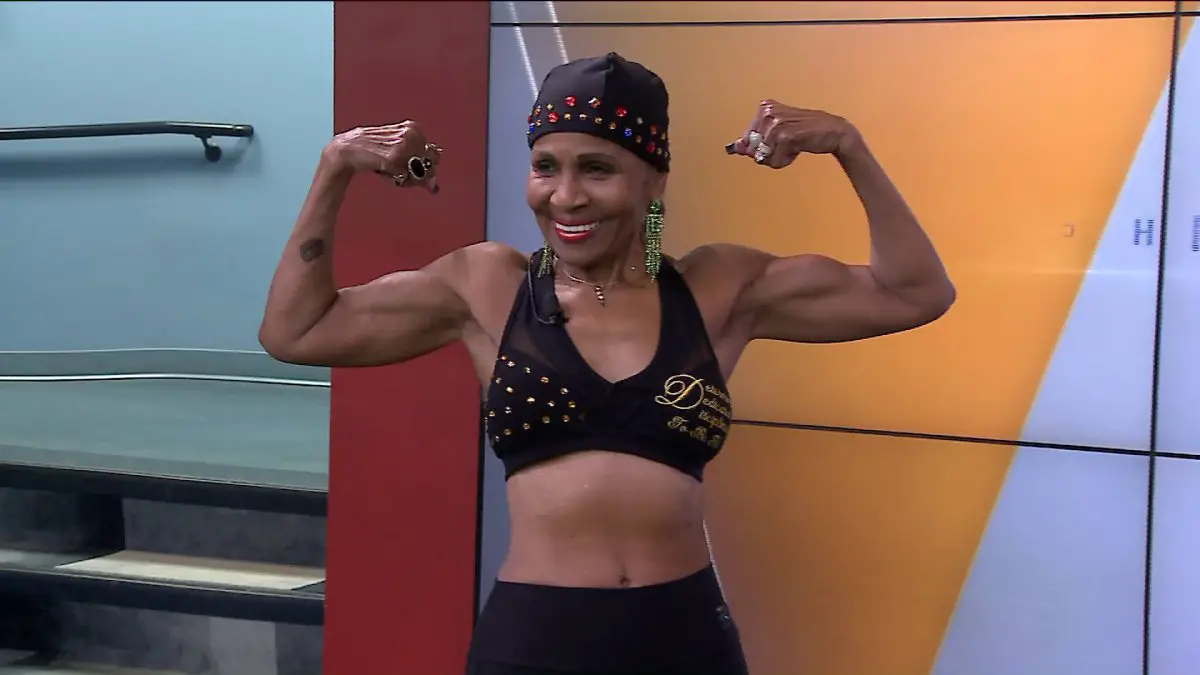 Not only does Shepherd have impeccably toned six-pack abs, she's won in life too. The fitness instructor has been married for 54 years.
Collin Shepherd admits he 'has trouble keeping guys away from her'. The Shepherds live in Baltimore with their son, 53, and grandson, 14.
Ernestine lives life to the fullest and does not let her age slow her down. She models and teaches fitness classes.
She told the Washington Post, 'If you are going to try to motivate people, you have to live that part'.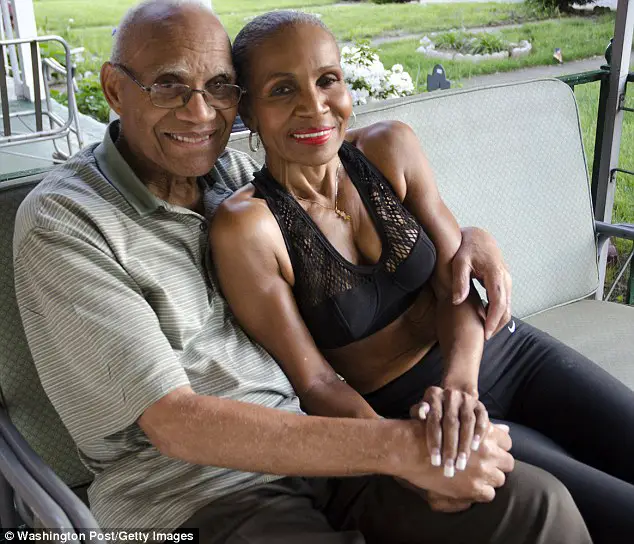 Ernestine trains rigorously with Yohnnie Shambourger, 57,a former Mr Universe.
Shambourger won the gold medal in bodybuilding at the Pan American Games in 1995.

Mr Shambourger told the Post: 'The six-pack is her signature. When she walks in a room and you see her six-pack, you say, "Ohh! Okay!"
Ernestine wakes up at 3 a.m. every day to meditate, then hits the trails in a local park to run 10 miles before lunch.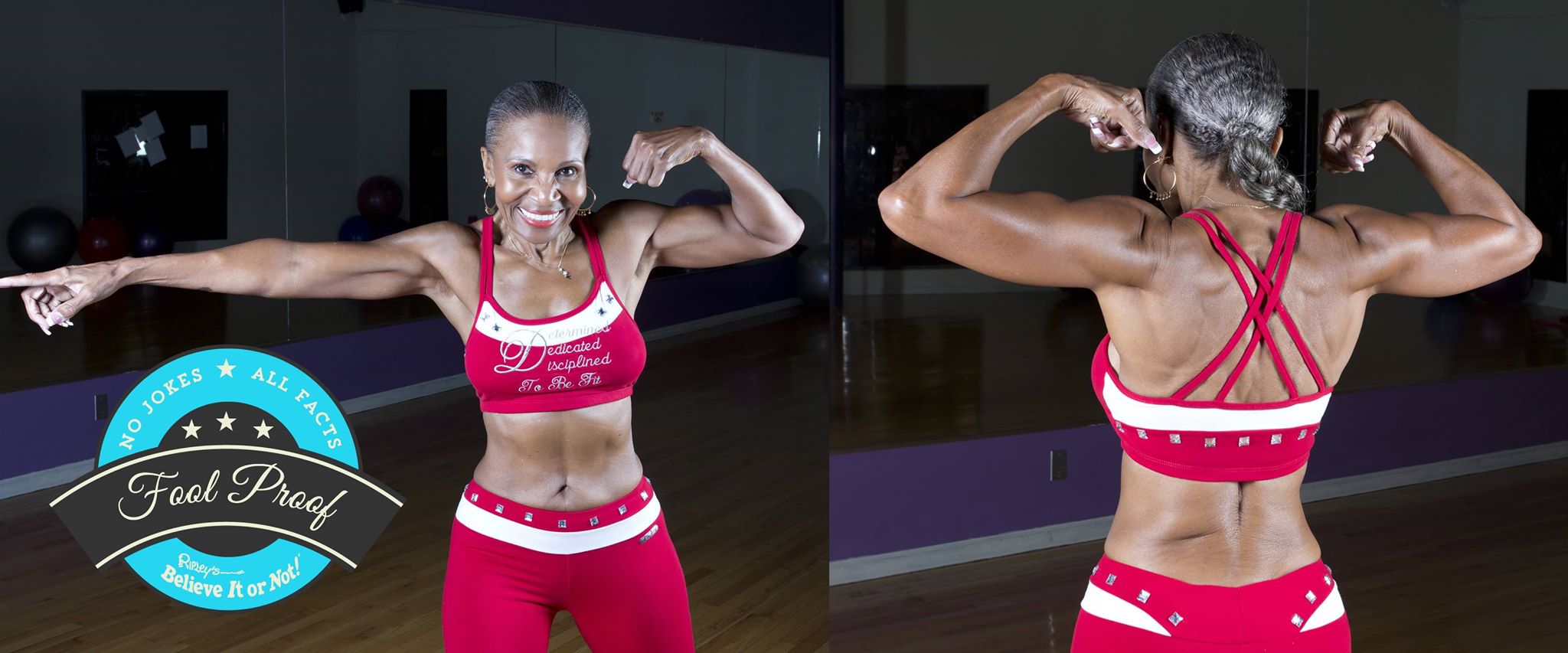 She eats only plain brown rice, bland chicken breast and vegetables. She washes this down with a glass of raw egg whites, three times a day.
She told the Post she has no 'desire' for sweets.
Over the past 18 years, Ms Shepherd has run nine marathons and won two bodybuilding contests.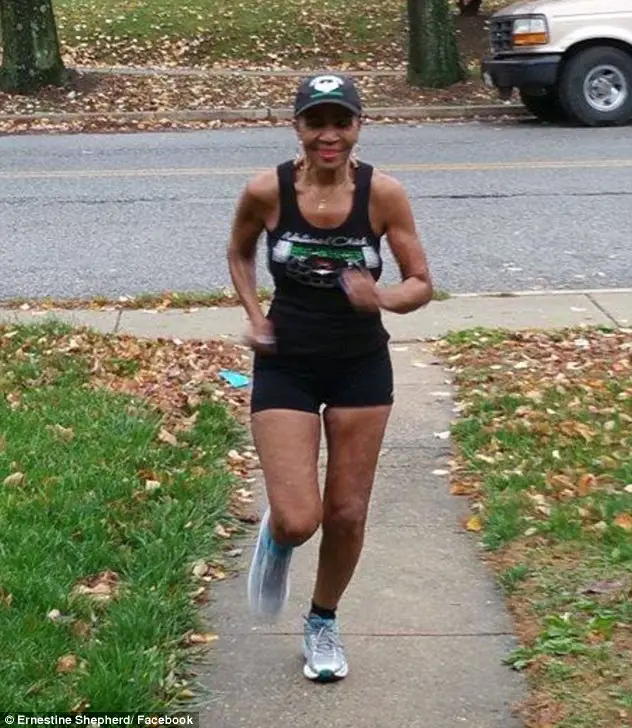 But she wasn't always so fit.
Ernestine told the Washington Post she was a 'couh potato' until she was 56 years old.
She and her older sister, Mildred, discovered their bodies had started going soft.
The sisters, who grew up in Baltimore as the children of a carpenter and schoolteacher, started working out together at a local centre.

They liked the results, and started pushing themselves. Eventually entering some bodybuilding contests.
Tragedy struck when Mildred died suddenly of an aneurysm. Ernestine was devastated. Her grief started to spiral out of control.
Then she remembered a promise and a 'pinkie swear' she had made her older sister.
The sisters had promised to push themselves to be competitive bodybuilders. Ernestine decided to keep up that legacy.
So she trains, and eats a restrictive diet, and it helps her remember Mildred.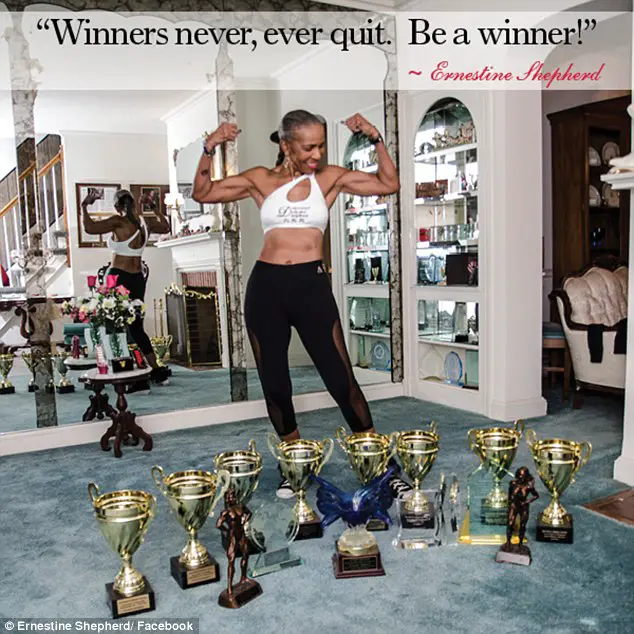 According to the Washington Post, when people tell Ms Shepherd she is destined to die soon herself, she says 'We are all going to die.But it's the quality of life while I'm living'.
Hilariously when Ernestine's cell phone rings, its the theme from the movie 'Rocky'. She says Sylvester Stallone is her idol.
On June 16, Ernestine took to Facebook to address her nearly 250,000 followers, saying: 'I am 80 years young today and I thank God for bringing me this far. I'm still determined, I'm still dedicated and I'm still disciplined to be fit!' 
Yes, it's fair to say Ernestine is not your typical grandmother!