Love makes people blind, but not so much in the case of Jean Clayton who is calling a spade a spade.
Jean Clayton who is sixty as at the time of writing this was formerly married to John Worboys who is infamously known as the 'Black Cab Rapist'.
John Worboys was arrested and jailed for raping and sexually assaulting teenagers eight years ago in 2009.
John Worboys
Although he was only charged with the rape of twelve different teenagers, authorities and police agree that the actual number may have in the range of 100 teenagers.
John Worboys whose modus operandi was to attack women after spiking their drinks is due to be released this year after the Parole Board signed off on his release late last year.
Black cab rapist John Worboys will be freed by the end of the month in a move that has provoked fury among victims' groups and led to calls for reform of the parole system.
Victim groups are not the only ones speaking out against his release as even his ex-wife Jean Clayton is condemning the system for releasing a man who should be dead.
Carrie Symonds, one of Worboys' victims
Despite getting a sentence which could have seen him locked up for life, he has been freed just eight years in after a controversial parole panel decided he is no longer a danger to women.
At his court sentencing back in 2009, Worboys was told he must serve a minimum of eight years in prison for his attacks and would not be released until officials were convinced he did not pose a threat to women.
The decision by the Parole Board to let out such a vile repeat offender has led to widespread claims of 'soft justice' and is sparking fear among his victims, some of whom only found out about his release through radio news.
In a gross letdown of the justice system, Worboys will be moved straight from a high-security jail into a bail hostel where he will be monitored by the end of the month.
Jean Clayton
Meanwhile, Jean Clayton has been vocal in her disgust at the Parole Board's decision.
Speaking to The Sun, Ms. Clayton said,
'He should never be let out. The next step would have been murder. It's very scary. He was the biggest mistake of my life. No one knows what I went through. He was the worst husband a woman could ever ask for. I realized during our honeymoon that I had made a mistake.'
The pair got married in 1991 and according to Ms. Clayton, she began to see him for the monster and sex-addict he was after she caught him repeatedly spying on her teenage daughters as they got dressed.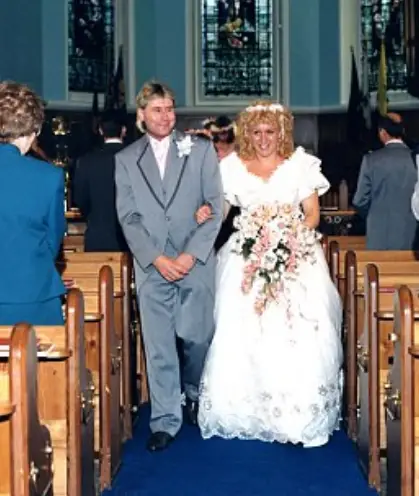 The head of the parole system was today also forced to apologize for not contacting some of his victims, who found out he was being freed from radio news.
Karen Ingala Smith, chief executive of women's sexual and domestic violence charity, NIA said,
'The police believe that Worboys may have raped more than 100 women, others think this is a conservative estimate. He's served nine years and nine months, that's just over a month per rape victim. How can we say justice has been served?'
Worboys' rape kit
Karen Smith further continued,
'On top of this, according to the CPS, the proportion of rape reports ending in a conviction has more than halved over the last seven years. Whilst this in part reflects increased reporting, it seems to me that the law is failing to deliver justice to too many women victims of sexual violence'.
With a total sentence amounting to just over six weeks per rape victim, campaigners are now likely to question why further convictions were not sought, as Worboys would likely have been given a much longer sentence preventing him from being released in 2018.
One can only imagine the agony and fear coupled with the feelings of injustice that would be running through the minds of his victims.