A tragic fire broke out this morning at a Pennsylvania day care center – leaving five children dead.
The young victims names have not yet been released.
In a press interview, Chief Guy Santone, of the Erie Fire Department revealed the children's ages ranged from eight months to seven years.
The fire was reported at a single-family residence in Erie, Pennsylvania, at about 1.15am Sunday.
The home where the children died is also registered as a 24-hour registered daycare.
At least four of the five children who died were said to have been staying at Harris Family Daycare. 
Valerie Lockett-Slupski told news outlet Go Erie that four of her grandchildren, two boys and two girls, were among the children who died in the fire. 
"So we are all at a loss, trying to figure out how this happened," Lockett-Slupski told local reporters.
The deceased children's parents had left them at the daycare overnight as they worked a night shift. The family had been using the Harris Family Daycare for almost a year.  
The center's owner, Elaine Harris, was also was taken to the hospital for treatment and is said to be in stable condition.
Witnesses reported seeing harrowing scenes of children fighting for their lives.
A 12 and 17 years old, managed to escape the fire by climbing out onto the first-floor roof and then jumping to the ground.  
The fire was so hot that it melted off the front of the home's vinyl siding. 
Investigators said that they found one smoke detector inside the attic of the three-story home.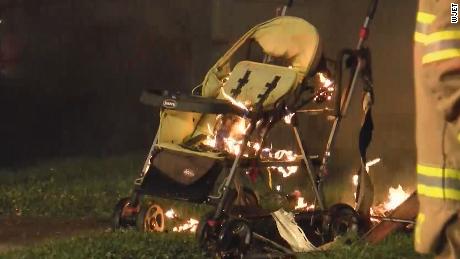 It's unclear if the fifth child who died was in daycare or a member of the family who lived in the home.   
A January 3 inspection of the daycare center was said to have revealed the presence of "ashes and cigarette or cigar butts."
Such items are banned in childcare and play spaces, as well as food preparation areas, according to CBS News. 
The childcare provider promised to "make sure it will be cleaned up and remain that way."
The same inspection noted that there needed to be "protective receptacle covers" placed in electrical outlets.
Authorities are working to determine the cause of the fire.