From being forced into fighting as a child soldier to becoming a criminal lawyer – no this isn't the script of the latest Hollywood blockbuster (although it should be) this is the life of Deng Adut.
The 33-year-old was a child soldier at the age six before being smuggled out of his hometown of Sudan. He found refuge in Australia and it is in this country where he has been named 'Person of the Year'
Deng – who is from the Dinka Tribe – was overcome with emotion after he received the top honor from the New South Wales premier, Mike Baird, at a ceremony in Sydney.
"I never dreamed of anything," he said. "Even [being] a fisherman," Deng said.
When Deng arrived in Australia he could not speak or write English. Now he describes Australia not as his adopted country – but his home.
"You are not Australian because you are born in Australia. You are Australian because Australia is born in you," he said, rewording an African saying at the exclusive ceremony.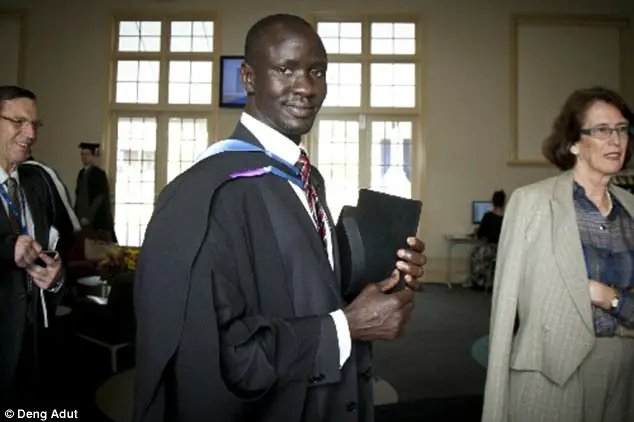 Now that he is officially 'NSW Australian Person Of The Year' there a host of issues close to his heart which he hopes to advocate for.
These include domestic violence prevention and discrimination. He also aims to help young people who are caught up in the legal system. 
"Children shouldn't be going to jail," he said.
"I'd like to be working with kids in jail to help them transition into the workforce. I'll make sure I work with schools.'
Deng hopes to achieve all this whilst studying for a second master's degree and running AC Law Group. He created the firm to fight for members of the Sudanese community from his home in Blacktown in Sydney's west.
"One day I'll be able to visit every single school in Australia and be able to tell my story," Deng says passionately.