Jaila Gladden knows she's lucky to be alive.
The Georgia college student knows she has her quick thinking and resilient sprit to thank for leading authorities to her kidnapper.
The 21-year-old was shopping at a grocery store one night in September 2017.
As she packed away her groceries, a stranger pressed a knife into her stomach.
He forced her into her car, raped her, and tried to drive her all the way to Michigan in a terrifying kidnapping attempt.
But Jaila's attacker didn't get out of state.
This is because she was able to lead police to evil Timothy Wilson through her smartphone. Jaila recounted her unbelievable ordeal to BuzzFeed.
She told the outlet Wilson followed her right up to her car. He held a knife to her stomach and ordered her to get in.
The madman then climbed into the driver's seat and started to drive toward Atlanta, which was 50 miles away.
But before they set off on their horrifying journey, Wilson pulled over into the back of an abandoned church.
He ordered Jaila to take off her clothes and sadly raped her. As the brave woman sobbed her heart out, her brutal attacker told her there was 'no purpose in crying.'
After the assault, Jaila was forced back into her car. Her attacker told her they were going drive to Michigan.
But before he drove them miles from where she live, he demanded Jaila find a gas station for him to rob.
That's when Jaila, stunned by her awful rape, thought of a way to help herself.
She convinced Wilson that she needed her phone to look up the locations of gas stations.
Surprisingly, he agreed.
Jaila then used her iPhone's 'share my location' feature to send her boyfriend her GPS data.
In order to keep her attacker off her scent, Jaila turned the brightness of the screen down.
She then opened up a text to her boyfriend, Tamir Bryant.
Jaila was cautious with her texts, sending only short messages. When Tamir asked why she was all the way in Atlanta, she replied, 'Kid napped.'
At first, it seemed like Tamir didn't believe her, and texted back: 'stop playing'
But quickly followed up with, 'I'm headed to the police station.'
'I immediately realized it was serious,' Tamir told BuzzFeed. 'She would never play like that. She would never say that for no reason.'
Jaila only had a few moments as her attacker stole the phone away and forced Jaila into the trunk.
He then unsuccessfully tried to rob a gas station.
When he wanted to try again at a grocery store, Jaila again said she needed her phone to guide him.
Jaila was only able to fire off a quick line at a time. She told her boyfriend they were in her car and warned him she didn't want police approaching with sirens.
'I don't want him to kill me,' she wrote.
Tamir was able to track Jaila's location and provided updates for the police there.
Thankfully an officer in the parking lot where the kidnapper had stopped, found the car. He was able to spot the car after hearing the description on his scanner.
When the officer started getting close to the car, the kidnapper saw him and sped off.
He crashed into a fence and managed to escape over it by foot.
But thankfully Jaila was safe and ran toward the police.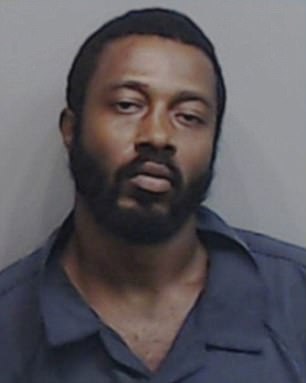 'If I didn't get the location, who knows what would have happened,' her boyfriend said later. 'Her doing it on her own — she was able to outsmart the bad guy.'
Though the kidnapper fled the scene, ten hours later police arrested Timothy Wilson.
He has since been charged with kidnapping, hijacking a motor vehicle, aggravated assault, rape, aggravated sodomy, false imprisonment, and aggravated assault against a police officer.