While the whole world watched in awe at Auntie Oprah's groundbreaking speech at Sunday night's Golden Globes, someone was giving her the side eye.
That someone was pop legend Seal.
The 'Kiss From A Rose' singer claimed the media mogul knew about the rumors surrounding Harvey Weinstein but did nothing.
Seal even accused the former talk show host of being an example of 'sanctimonious Hollywood'.
Taking to Instagram on Wednesday, the 54-year-old shared a meme of Oprah with the disgraced producer.
It read: 'When you have been part of the problem for decades… but suddenly they all think you are the solution.'
Seal even captioned the meme, insinuating that Oprah knew about the various sexual misconduct allegations against Weinstein.
'You'd heard the rumours but you had no idea he was actually serially assaulting young stary-eyed actresses, who in turn had no idea what they were getting into. My bad.'
Seal then hash-tagged the post with '#SanctimoniousHollywood.'
However, in the days following the shocking allegations against Weinstein, Oprah made it clear she completely dismayed.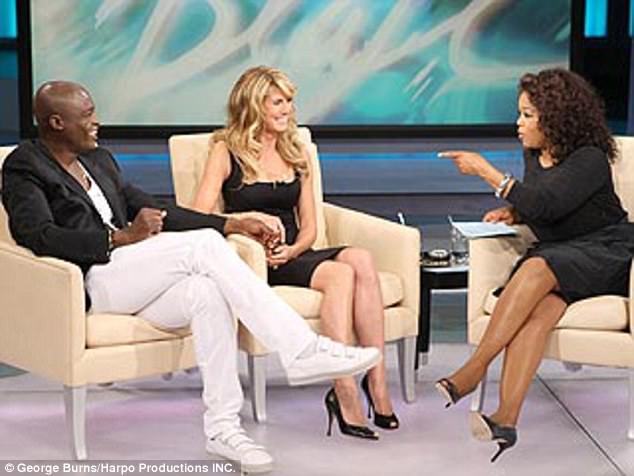 Oprah wrote: 'I've been processing the accounts of Harvey Weinstein's hideous behavior and haven't been able to find the words to articulate the magnitude of the situation.'
She thanked the victims that had come forward and added, 'I believe a shift is coming.'
Oprah's speech at the Globes speech sparked reports that the former talk show queen may run for President in 2020.
Seal, who was previously married to model Heidi Klum, has been on Oprah's talk show.
Oprah surprised him by reuniting him with a long lost sister in 2007.
Meanwhile, Seal caught a lot of heat for his controversial post.
Model Chrissy Teigen wrote under the meme: "Hmm. Let's just say we've all heard things about each other, haven't we?"
Instagram
Reality star Tanisha Thomas also wrote: "Bye seal. Let's hold him accountable for his disgusting actions and choices not her.'
Some questioned if Seal himself knew about the allegations against Weinstein.