We could all learn to be a little bit like Wanda Dench.
Last year, she accidentally sent a text message to Jamal Hinton. She invited him to her house for Thanksgiving dinner. 
The mix-up quickly went viral and turned the pair into online sensation. But the innocent mistake has now blossomed into a holiday tradition.
The then 17-year-old cheekily asked if he could still come to dinner and grab a plate, 
The grandmother from Mesa, Arizona, heartily agreed and a new friendship was forged.
They sat down for dinner after he travelled the short distance from Tempe back in 2016.
And this year, Jamal and Wanda kept their new tradition alive.
'It was really nice having everybody here,' Dench told the Arizona Republic. 
'We got to laugh about last year and reminisce about how it all blew up on our phone and how I had to change my number.'
'We had a laugh and a good time.'
The only downfall last year was that Hinton, now 18, forgot to bring the pumpkin pie. But he made amends this year by supplying the traditional Thanksgiving dessert. 
The teenager said: 'The world is becoming a better place than it used to be,' Hinton said Saturday. 
'I'm loving it. I love that you don't have to know someone or know their background to be nice to them.'
A week after taking the internet by storm last year, Wanda and Jamal sat down together for their Thanksgiving feast.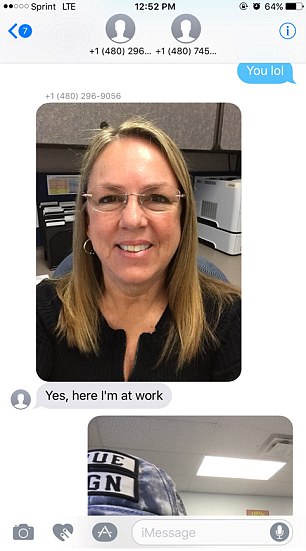 The 17-year-old student replied to Wanda's text saying the grandmother had texted the wrong person.
But asked if he could: 'still get a plate though?'
Wanda replied almost immediately, 'Of course you can, that's what grandmas do' and the invitation was officially accepted.
The generous woman hugged her 'honorary grandson' immediately as he walked up to her house.
Jamal thrilled with the meal, and that he had accidentally become linked with such a nice person.
'I'd never seen her before and She welcomed me into her home,' Hinton said, according to ABC15.  
'That shows me how great of a person she is, I'm thankful for people like that.' 
Wanda told ABC she was glad to have played a part in spreading a positive message at the start of the holiday season.
Twitter users were delighted by Dench's sweetness, and her texts were shared more than 200,000 times.
Jamal was especially touched by Wanda's kindness.
'With all the Donald Trump going on and all the racial comments going on, it's kind of good to see there's still good people out there,' he said at the time.
Jamal has now been given an 'open invitation' to future Thanksgiving dinners at Wanda's household.