Taking maternity shots, having push parties and even elaborate gender reveals are quite the norm nowadays. 
But one man, who loves his pregnant dog so much, improvised his own maternity shoot. 
Or is it a dogternity shoot? Anyway, Daquan Collins, 20, shared photos of the hilarious shoot on Twitter on Sunday.
The dog owner and proud father to be told BuzzFeed News he was casually in his yard with his dog Heidi and asked his sister to take photos.
Naturally the photos have now gone viral.
Heidi, is about nine weeks pregnant and could give birth at any time.
'The shoot was a spur-of-the moment thing,' Collins told BuzzFeed News. 'I was sitting in the yard and I yelled to my sister to just start taking pictures.'
Collins' pictures, which he shared them publicly, have been retweeted more than 60,000 times and has earned more than 135,000 likes.
'I honestly didn't expect it to blow up the way it did,' Collins said of the viral shoot. 'But I'm not mad, I like attention lol and so does Heidi.'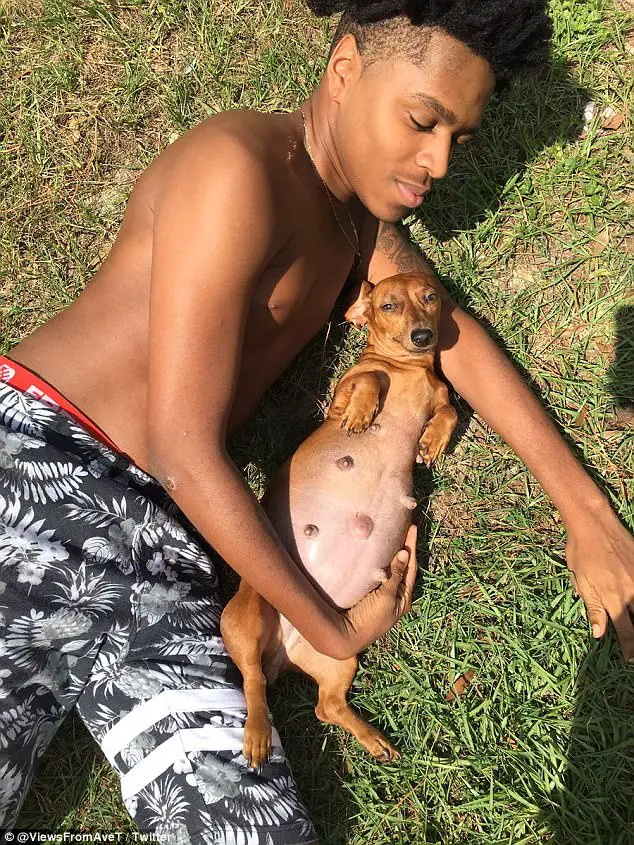 According to Daquan, mom-to-be Heidi is usually camera shy.
So he tried to make the photos look as natural as possible, while his sister snapped the shots.
Twitter users loved the unusual maternity shoot. Many are begging Daquan to post another update after the puppies are born.
Other users asked about the puppies' dad, Collins revealed it was a long-haired Chihuahua named Snuggles.
We can't wait for the post-pregnancy pictures Daquan!