She was only four-years-old.
But in a moment she went from being a little girl to a fully grown adult.
New footage has emerged from the back of a police car showing the daughter of Philando Castile's fiancee, begging her mother to keep calm.
Dae' Anne was scared the person who killed her stepfather would come back and kill her mom.
That person was meant to protect them. That person was a cop.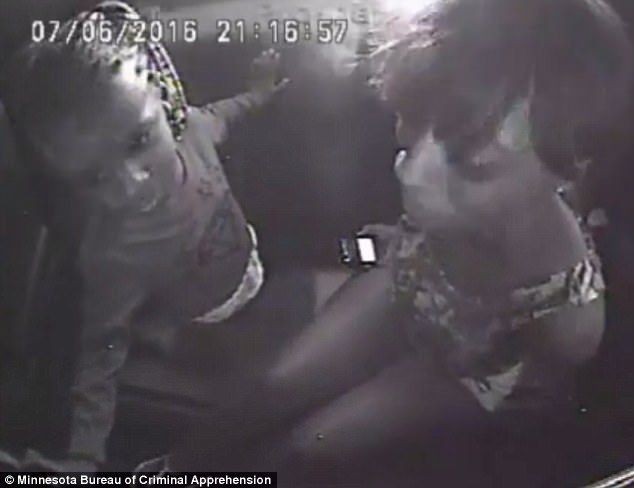 Dae'Anne's mom Diamond Reynolds was handcuffed by police – even though she posed no immediate threat. 
Dae'Anne had been put in the back of the squad car immediately after officer Jeronimo Yanez opened fire on her step daddy Philando Castile.
Footage from the back of the cop car, obtained by an FOIA request, shows Reynolds screaming in pain and anger before her terrified daughter begs her to stop.
'Mom, please don't scream 'cause I don't want you to get shooted!' she sobbed, giving her cuffed mother a tight hug.
Reynolds tries to reassure Dae'Anne, who is in tears, that everything is ok, but is in shock herself.
'I can't believe they just did that,' she whispered to herself in the video. 'Please let him be ok.' 
'I can keep you safe,' the little girl tells her mother.
The mom-of-one, repeatedly asked police if they could remove her handcuffs so she could call family and friends and console her daughter.
In the video Reynolds is wrestling with her cuffs and says: 'Damn, is there no one to take these b*****s off?'
To which her panicked daughter pleaded with her to stop.
'No, please no! I don't want you to get shooted! Don't take them off until they take them off you,' the four-year-old told her.
The youngster who had just witnessed her mom's fiance get shot by police in front of her own eyes, then said to herself: 'I wish this town was safer… and we wouldn't live in it.'
'I don't want it to be like this anymore.'
Reynolds was also heard desperately praying that her boyfriend was still alive.
'He's a good man lord, Jesus, please, please, please,' she repeated.
Police did not tell her Castile was dead until she was in the interview room at the station.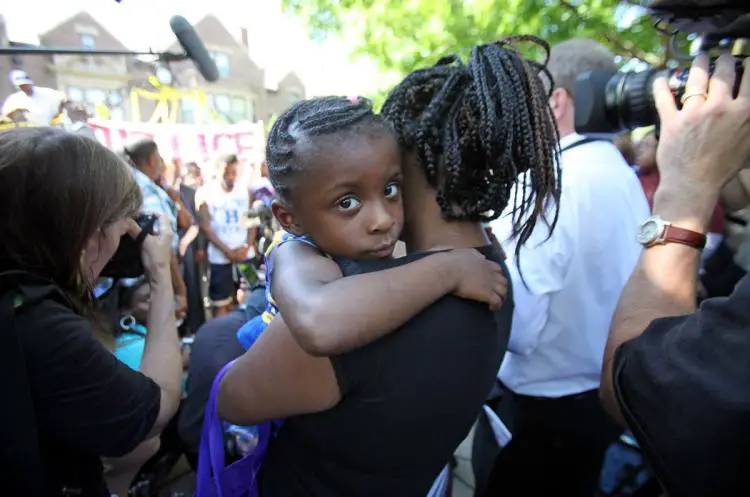 Little De'Anne goes from comforting her mother, to reflecting on the horrific situation.
'Now that's he's gone, he might be gone forever,' the youngster said, through tears. 'If he is gone forever, I'm going to miss him very much,' she told her mom.
The shooting on July 6, 2016, in the St. Paul suburb of Falcon Heights gained worldwide attention after Diamond Reynolds livestreamed her boyfriend's last moments on Facebook.
On Tuesday, authorities released the dash-cam footage from killer cor Jeronimo Yanez's patrol car.
It was never shown to the jury in court, despite being frequently referenced.
It showed from start to finish how Yanez pulled the family over and told Castile and his girlfriend that their taillight was broken. 
The routine traffic stop quickly escalated after Castile, who was licensed to carry a weapon, calmly informed him he was armed.
'Sir, I have to tell you, I do have a firearm on me,' Castile said in the footage. 
Four seconds later, Yanez began shooting. 
The harrowing video also showed Reynold's young daughter opening the door of the car and slowly crawling out.  She was scooped up in confusion by Yanez's partner and taken away from the vehicle.
May Philando Rest In Peace