No one should ever be in this much agony on a daily basis – let alone an innocent two-year-old boy.
But this is the reality for little Jailian Kaipeng. His eyes literally protrude from his head and he is slowly losing his eye sight.
Sadly, his heartbroken parents are too poor to afford medical treatment. His labourer father earned just Rs 150 ($2.29) a day, but is now unemployed.
Every day Jailian is in 'constant pain' and may be suffering from a rare disorder or even eye cancer. 
Bu without consultations with experts and tests, no one can be sure.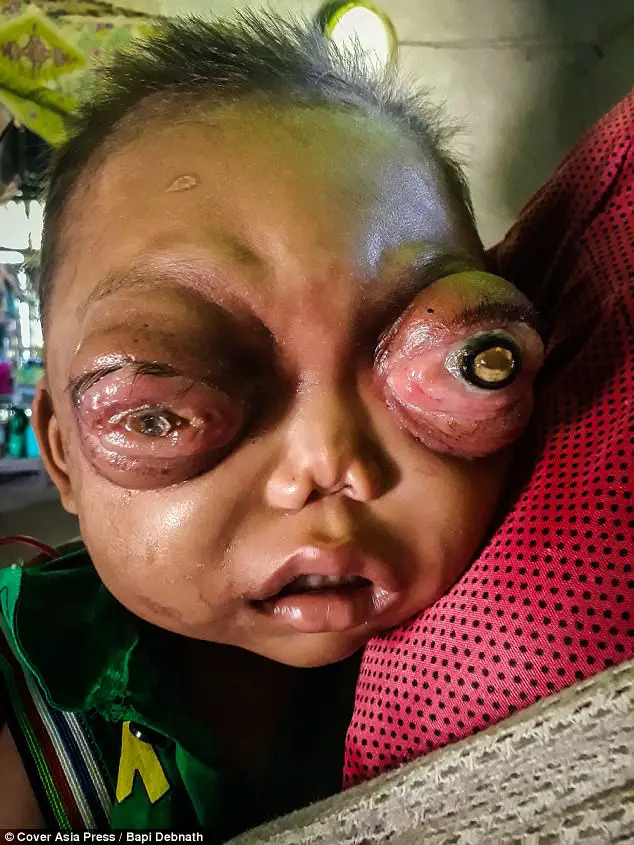 Jailian began life as a healthy baby. But tragically his eyes began to swell when he was just two months old.
His condition pushes his eyes forward so much that he can't even blink. 
His mother Chengmaite, 25, is from a remote village in Tripura, north eastern India.
She tearfully said: 'All the doctors have said we should take him to the big hospitals but they are beyond our affordability.'
'People stare at him and are shocked by his condition which breaks my heart. All we can do it wait for a miracle to happen. We are in desperate need of help.'
Jailian's father, Neirbanglal Kaipeng, 28, spoke of when his son first started exhibiting his troubling symptoms. 
'A red line would appear and disappear on his eye ball and it would cause his eye to swell,' he said.
'We were very shocked when we first saw it, we had no idea what to do, or who to turn to.' 
The family consulted local doctors but they too were baffled by his condition.
'We took him to see our local doctors,' Neirbanglal said. 'But they were baffled. They gave him some medicines and sent us home but his eyes just got worse.'
Eventually the condition spread to his left eye and the swelling became permanent.
In desperation for help, Neirbanglal sold some of his land for Rs 30,000 ($450) and the family cow for Rs 10,000 ($150.)
But Jailian's condition continued to worsen and the family have not been able to afford the best care – and have now lost their home.
'We were shocked and helpless by the visibility of his condition. I had no idea where to take my son,' said Neirbanglal. 'We do not have that kind of knowledge or know how best to help him.'
'We had no money to take him to the city hospitals. But we wasted time, just sitting and staring at him all day, crying.'
'And in that time we could see his eyes getting worse.'
Eventually, the family – including Jailian's brother Ringdamte, 10, and nine-month-old sister Naote – had to leave their rented accommodation and move in with Chengmaite's parents.
But there is a small glimmer of hope.
Neirbanglal said: 'There's a Christian missionary near my in-laws' house so we asked them for help and they kindly found us a good doctor.'
'The doctor has given my son's disease a name but he's done nothing else because we have no money. We have no idea what it is, whether it can be cured or what to do next, we've had no guidance.'
'I have no idea how long we can stay here. I am now jobless as we've had to move home.'
'My wife is always crying. We can't sleep for worrying about him. It has started affecting our health too.'
Dr Shashidhar Tatavarthy, a paediatric at Artemis Hospital, in Delhi, said: 'We need to do a biopsy immediately to confirm the condition and differentiate it from a malignant tumor.'
'The boy has not lost his sight yet but if he's left untreated any longer he could lose his sight completely.'
'It is extremely rare to have this condition in a child of two years old. Surgery would be very complex but essential. This child needs immediate attention and treatment.'
Neirbanglal added: 'It is devastating to see my child suffering like this. He cannot see properly and it kills me to see him like this.'
'I am possibly the most useless father who is not able to help his son.' 
If you are able, you can donate to Jailian's cause here.