A precious baby girl has been taken too soon after being run over and killed by her mother's SUV.
Lewiston police said Taneisha Thomas, 27, accidentally struck her daughter, Tiannah Sevey, with her 2004 Mercury Mountaineer at around 5pm on Saturday.
Little Tiannah was attending her big sister's 10th birthday party.  
The 17-month-old was treated at the scene before being transported to Central Maine Medical Center. But sadly she died in hospital.
Police believe Thomas was backing up when her vehicle hit her daughter.
Lewiston Police Department spokesman, Lt David St. Pierre, told the Press Herald that investigating officers gave Thomas a blood test following the incident.  
'This is going to be a long investigation,' St Pierre told local media. 'We still have a long ways to go.' 
Officers say a blood test is a standard procedure in fatal car crashes.
It is yet to be determined if the mom-of-three was under the influence of drugs or alcohol. 
Authorities said the results of the test could take several weeks to process.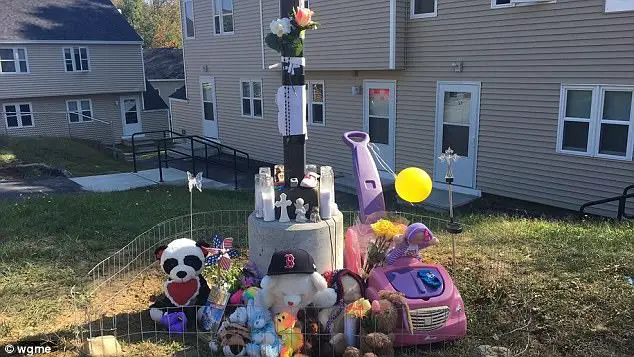 No charges have yet been filed against Thomas – but it could be just a matter of time if you judge her on past actions. 
Records reveal in 2013 Thomas was convicted of operating under the influence after hitting a parked car in front of her home.
Her blood alcohol level at the time was 0.27 per cent.
She was driving a 2000 Subaru owned by Tiannah's father, Michael Sevey, at the time. 
Thomas is also facing a more recent OUI charge. 
According to the Sun Journal, Thomas' license was suspended on August 17 after she was charged with the second OUI. 
When Thomas struck her child she was still driving with a conditional license. The license is set to expire on October 7. 
She is scheduled for a hearing on the license suspension on Thursday. 
Devastated family and friends gathered outside the apartment complex, where the little girl died, and created a makeshift memorial.
A GoFundMe account was also set up by a friend of the family in order to pay for funeral costs.