Adorable two-year-old Parker Curry is out here giving so many people life.
The Washington DC resident went viral last week when she was photographed with her mouth open staring in awe at a portrait of Michelle Obama.
Our forever First Lady's portrait was recently put up in the National Portrait Gallery.
On Tuesday, little Parker went viral again as she got chance to meet the woman in that painting – and have a dance party.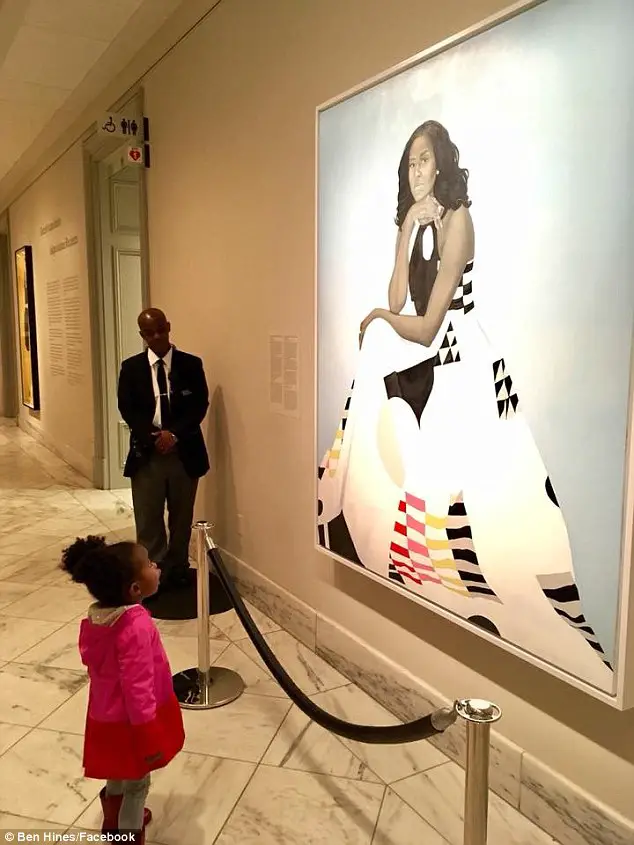 Michelle Obama shared a video of herself dancing with Parker after meeting the toddler.
The dance party appeared to be at Michelle's office or home
'Parker, I'm so glad I had the chance to meet you today (and for the dance party)!' wrote Michelle on Twitter.
'Keep on dreaming big for yourself…and maybe one day I'll proudly look up at a portrait of you!'
The heartwarming video saw the pair dancing to Taylor Swift's song Shake It Off.
Parker's mother Jessica and little sister Ava could be seen in the background watching as the young girl boogied with the former first lady.
Michelle looked chic as always in a white blouse and black slacks.
Parker's dance party was also posted by Parker's new PR firm, TAA Public Relations, who also work with The Smithsonian Institution.
The lifestyle company revealed they were working with the little girl by writing: 'When our littlest client met "the Queen" in the portrait – this is ALL OF US!!'
Parker was visiting the National Portrait gallery on Thursday when Ben Hines snapped a photo of her looking at the painting.
He then posted the photo on Facebook, writing: 'Donna Hines & I made a pilgrimage today and we were delighted to wait in line behind this fellow art lover & hopeful patriot.'
Hines had been visiting his mother Donna in DC at the time, and within 24 hours the photo had gone viral.
Parker's mom soon learned the news as well and shared the image on her social media accounts,  writing:
'Parker went viral today thanks to a stranger taking a picture of her admiring Michelle Obama's portrait yesterday!'
Michelle meanwhile spoke of the power she hoped her portrait would hold during its unveiling last month.
'I'm also thinking about all of the young people, particularly girls and girls of color, who, in years ahead, will come to this place and they will look up and they will see an image of someone who looks like them hanging on the wall of this great American institution,' she said.