Why Megan Schug chose to torture and humiliate her child is a mystery.
But thankfully the cruel and sadistic woman is facing a life behind bars.
Shug locked her four-year-old autistic son in a closet without access to food, water or the bathroom.
The 24-year-old pleaded guilty to first-degree child abuse on Tuesday in Calhoun County, Michigan circuit court.
She faces the possibility of life in prison when she is sentenced on April 13.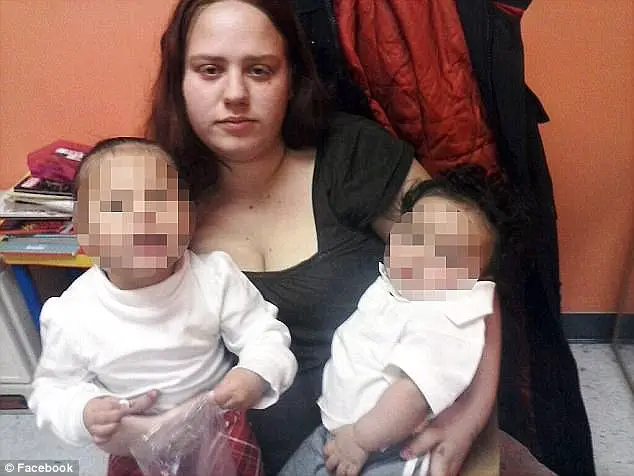 Schug may testify against her boyfriend, Isaac Miller, at his trial next month.
Her attorney Ronald Pichlik says his client 'hopes for some consideration for her cooperation,' he said.
Prosecutors said Schug and Miller tormented Schug's son Maloyd Gaines.
They say the couple made him fight with his half-siblings, who tore clumps out of his hair.
They say Miller, who is the father to two of Schug's four children, singled him out.
In June, Schug cried in court as prosecutors described the despicable condition her son was in when he was rescued.
The mom took her son Maloyd to hospital on March 22, 2017.
She told doctors he was having trouble staying awake and was not eating, they said.
But it quickly became apparent the little boy was being abused.
'He was very thin to the point he was very sickly. He had abrasions and cuts and rashes all over his body.
'His toes were blackened and swollen and his hands also were swollen,' Michael Zaleski, a Child Protection Services case worker told the court.
Maloyd later lost several toes to a gangrene infection.
Shug's apartment had no furniture except for a small couch and had human waste on the floors.
Once in custody, Maloyd's mother admitted locking her son in a closet, sometimes overnight, for punishment.
She claimed she carried out the abuse at Miller's request because she was scared he would hurt her if she didn't.
'At nighttime, they would lock him in the closet and sometime in the morning open the closet,' Detective Ray Strunk said.
They deprived him from food for a day or two at a time and beat him with wooden slates when he refused to hold a crate as another form of punishment, the detective claimed.
Schug told police that despite her son's filthy condition, she was not allowed to bathe him unless Miller was present.
They would deprived their four year old son from food for a day or two at a time.
They beat him with wooden slates when he refused to hold a crate as another form of punishment.
Her only apparent attempt to treat him was to rub petroleum jelly on his wounds, the policeman said.
After her arrest in March, Schug's relatives tearfully told local media outlets that they feared for his well-being.
They say they tried to remove him from the couple's care but were denied.
'I asked my sister, can I take my nephew, she said no. I knew he was being beat up by Mike,' Morgan Schug told WWMT.
She claimed to have seen him beating the boy with a switch. .