Aunt Wendy is still on bed rest and we're missing hot topics!
The popular talk show host grudgingly went on break, as she continues treatment for Graves' disease and hyperthyroidism.
Producers agreed to air reruns or as she likes to call them 'encore performances.'
But that all changed on Tuesday when TMZ reported that the 53-year-old's pal Jerry O'Connell is going to stand in for her.
'Jerry has been such a good friend to me,' she said.
'We're happy to welcome him as a guest host while I'm out getting much needed rest.'
'Jerry will guest host next week and I'll see you all Monday, March 19! XOX, Wendy'.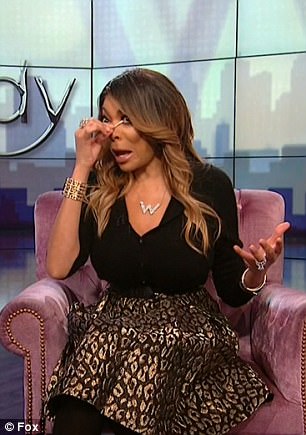 In early February Wendy cancelled three days of taping due to her then undiagnosed illness.
On February 14 she posted an Instagram video of herself in a a pink dressing gown and a white towel turban as she sipped orange juice.
Wendy explained: 'I feel awful. I had to be talked out of going to work today.'
Then back in November, Wendy fainted on live TV.
'People thought I was having a stroke on TV,' she told Good Morning America at the time. 'I was dehydrated according to paramedics.'
However, doctors have put these symptoms down to Graves' disease.
It is a thyroid problem and the leading cause of hyperthyroidism, a condition in which the thyroid gland produces excessive hormones, according to webmd.com.
Once diagnosed, it is quite easy to treat and in some cases.
It does goes into remission or disappears completely after several months or years.
Left untreated, however, it can lead to serious complications and even death.
But in Wendy's case she is getting expert medical help and is more than likely to recover.
The 53-year-old has been with her husband Kevin Hunter, 45, for twenty years. He is also executive producer of her show,
Together they share 17-year-old son Kevin Jr.