Her name was Cariann Denise Hithon. 
She was 22-year-old and and an honors student,
But Carriann was shot dead on her birthday by police in Miami. She was allegedly killed after driving drunk and hitting a police officer.
The officer claims he was forced to open fire when she drove into a second officer and sent him flying through the air and onto the ground, reported the Miami New Times.
A video of the shooting has now surfaced on social media.
In the clip Hilton's car lurches forward as Officer David Cajuso rolls over the car's hood. That seemingly prompts a second officer to shoot into the window.
Miami-Dade county police are now investigating the incident, but have not yet released the name of the police shooter. 
Hilthon, was an honors student at Temple University in Pennsylvania. She was celebrating her birthday in South Beach on October 5 when the incident occurred, according to her father.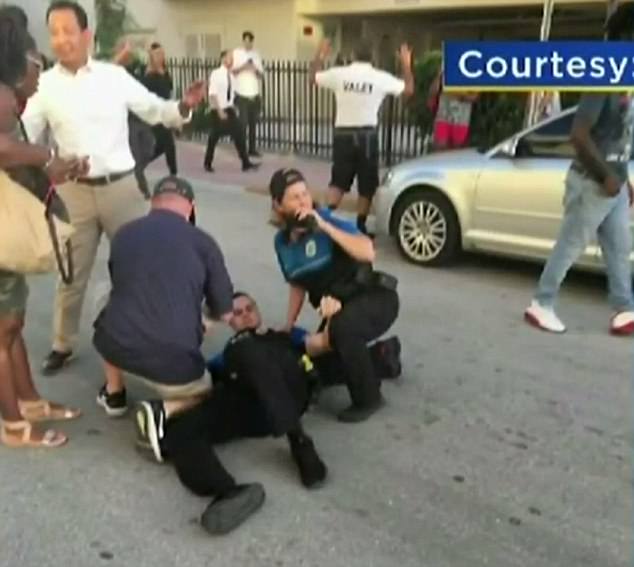 Police have said that Hithon was driving erratically at around 6.15pm that evening.
She the reportedly crashed her black BMW into another car on 12th Street and Ocean Drive.
She then sped through a red light and hit a car on Lincoln Road, before driving off again in what police said was an 'apparent attempt to flee the scene.'
When police caught up with her, officer Cajuso went to stand in front of the car in an apparent keep Hithon from driving any further, the department has said.
'She started the car and ran away,' Miguel Garcia, a witness told CBS Local. 
'She was, like, doing over the policeman in front of her, the officer.' 
Garcia also said he saw her face while she was behind the wheel – and described her as having 'crazed' eyes. 
'She was staring, it was very scary looking, I think she was on drugs or something,' he said.  
An unnamed person was sitting in the front passenger seat of Hithon's car – and there has been no word on that individual's condition. 
The Miami Beach Fraternal Order of Police President Bobby Jenkins said in a statement that he stands behind the officer who opened fire.
'It is unfortunate that yesterday's events ended in the loss of life, yet it is an officer's duty to ensure the safety of the public under the imminent threat of harm from an individual,' the statement reads.
'That being said we cannot dismiss the fact that an officer was hit with deadly force by a vehicle that was driving recklessly and fleeing from the scene of an accident. 
'We welcome the independent investigation being conducted by the Miami-Dade Police Department and are confident that our officer's actions were justified, warranted, and appropriate given the circumstances at hand.'