What I love about my hair is that it is versatile.
If I get bored I can switch to a weave, lace front wig, braids, cornrows. And sometimes I let my natural afro be wild and free. You better believe that every style I wear, I rock!
I'll be damned if someone tells me how to wear my hair.
So, I'm totally behind an Banana Republic employee that was told by her manager he would not schedule shifts for her because he felt her braids were too 'urban' and 'unkempt.'
Destiny Tompkins wrote in a Facebook post that her manager told her that her braids did not reflect the retailer's image. 
Destiny was employed at the chain's Westchester Mall location in White Plains, New York.
Destiny said in a long post on Facebook that the store's district manager, who is white, came to visit.
She was then called into the office of her store manager, who is also white.
She wrote: 'I came in and he questioned me about the dress code and immediately, I thought there was something wrong with my outfit but he sat me down and questioned my hair instead.'
'He told me that my braids were not Banana Republic appropriate and that they were too "urban" and "unkempt" for their image.'
'He said that if I didn't take them out then he couldn't schedule me for shifts until I did.'
'When I tried to explain to him that it was a protective style for my hair [because] it tends to become really brittle in the cold, he recommended that I use shea butter for it instead.'
'I have never been so humiliated and degraded in my life by a white person.' 
'In that moment, I felt so uncomfortable and overwhelmed that I didn't even finish my work shift and ended up leaving.'
Destiny added that she did not know the last name of her manager but hopes her post will go public in order to 'expose' the store for its 'blatant racism and discrimination'.
'Box braids are not a matter of unprofessionalism, they are protective styles black women have used for their hair and to be discriminated against because of it is truly disgusting and unacceptable,' she wrote.
'There's no reason why a white person should feel allowed to tell me that I can't wear my hair the way that I want [because] it's too black for their store image.'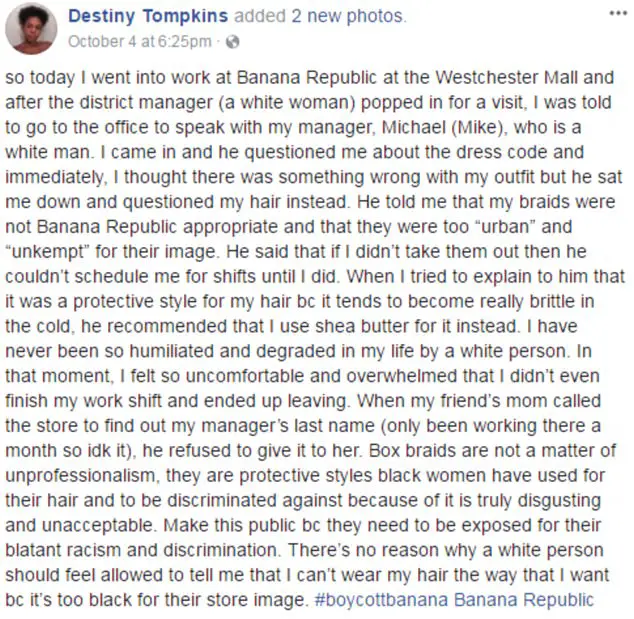 Destiny's post has garnered nearly 53,000 shares on Facebook.
In response a Banana Republic spokesperson said Sunday that the manager has now been fired.