The bad boy with the orange jumpsuit is now the king of the runway. 
All eyes were on 'Hot Felon' Jeremy Meeks as he strutted down the runway in fashion designer Philipp Plein's Men's Fashion Week show in Milan on Saturday.
The breathtakingly gorgeous 33-year-old flaunted his collection of tattoos and showed off his toned abs as he wore the designer's latest offering.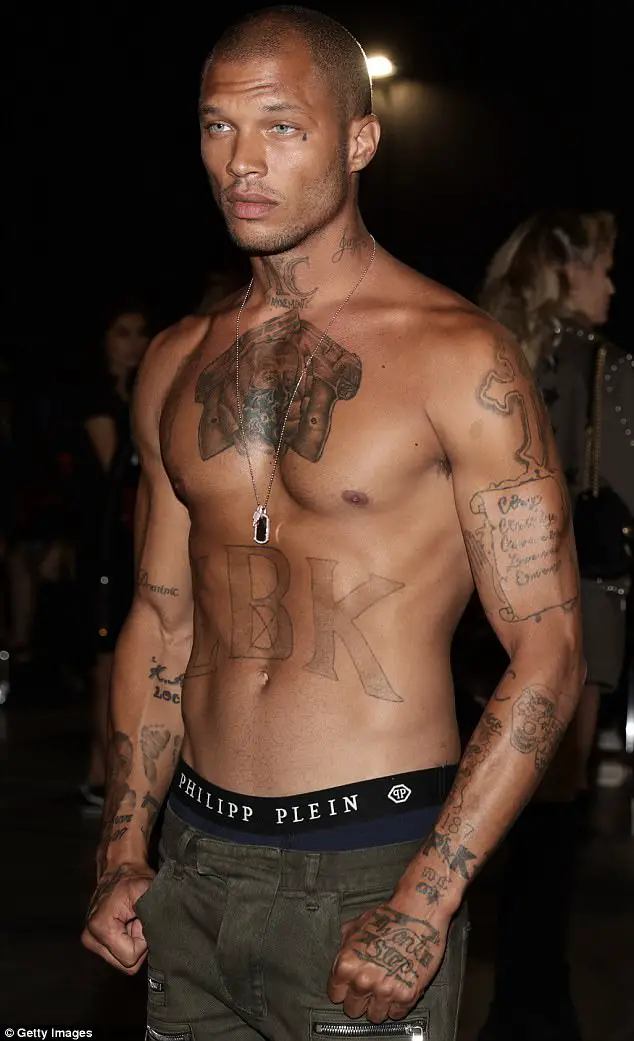 Meeks looked seductive and unbothered as he wore a pair of khaki slimfit trousers.
The form-fitting trousers hugged his slender hips and displayed Philipp Plein's boxer shorts. 
Adding to his laidback look, he adorned his feet in a pair of black Nike high-tops. 
On the catwalk the married father carried a motorcycle jacket in his hand and rocked an unlit cigarette behind his ear. 
The blue eyed adonis showed off his muscular, tattooed arms by rolling up the sleeves of the black tee that featured a tiger.
Meeks' modeling career sprang into action after his mugshot went viral in 2014.
It was posted on the Stockton Police Department's Facebook.
Immediately he was dubbed the 'Hot Felon', with Jeremy's image racking up a huge 75,000 likes, 20,000 comments and 10,000 shares.
His viral fame earned him a contract with White Cross Management and he now boasts 1.1million followers on Instagram.
The Northern California native made his runway debut at Plein's New York Fashion Week show in February.
Stars like Kylie Jenner, Madonna and Paris Hilton were seen watching from the audience.