All over the world, different people still have different conceptions about the domesticity of whales. The largest mammal in the world has often sparked fiery debates about its nature.
It should be mentioned though that in recent years, more and more people are beginning to believe that whales aren't wild.
Just like dolphins which can also grow up to astronomical sizes, whales have become increasingly docile toward man and their immediate environment.

In case you are out there and are still debating the domesticity of whales, a member of the species just made a major case in favor of their docility.
A giant 50,000-pound humpback whale protected a marine biologist from a nearby shark.
The large creature did this by shielding the marine biologist under his pectoral wing and pushing her away from danger.
This heartwarming occurrence which is astounding in its rarity happened in October last year although footage of the incidence was captured and just released this year.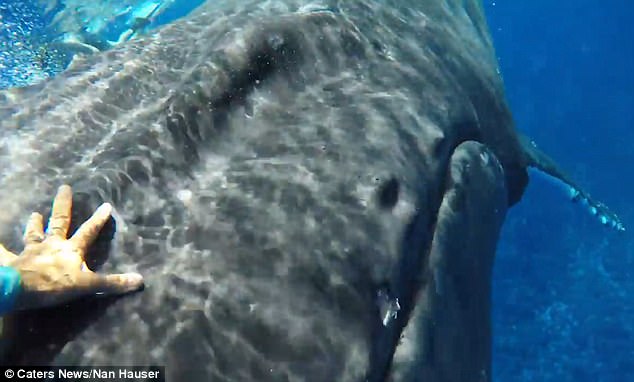 The hypnotizing footage was filmed in the waters off Muri Beach, Rarotonga, of the Cook Islands in the South Pacific.
The biologist who was rescued is a renowned whale enthusiast and researcher named Nan Hauser.
No spring chicken herself, Nan Hauser was sixty-three years of age when this frightening yet heartwarming incident occurred.
Nan Hauser was snorkeling in the waters off Muri Beach when unknown to her she was being targeted by a shark.
The marine biologist was playing with the humpback whale while the tiger shark approached.
According to Nan Hauser, she initially assumed that the shark was another whale coming to join in the fun.
It was only when she saw its tail moving left to right instead of up to down that she realized it was, in fact, a more menacing sea animal swimming towards her.
Nan faced certain death if not for the timely intervention of her whale friend.
The footage shows the whale guiding the diver into a certain direction and it's not long before Nan breaks the surface and reveals to her team on board a boat that there is a shark nearby.
The humpback whale doing the shielding wasn't the only whale involved in the heroic act.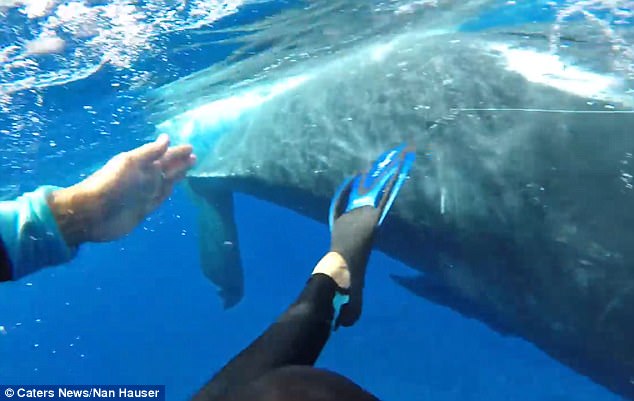 According to Nan Hauser, out of frame, another whale was using his tail and slapping the water to divert the shark away.
Nan said the incident, is proof of the whale's intuitive nature to protect other species of animal – including humans – something she believes has never been captured on film.
She compared this to firemen being willing to rush into burning homes to help save the lives of strangers.
Nan, who lives on the Cook Islands, said,
'I wasn't sure what the whale was up to when he approached me, and it didn't stop pushing me around for over 10 minutes'.

'I've spent 28 years underwater with whales, and have never had a whale so tactile and so insistent on trying to tuck me under his huge pectoral fin'.
The sixty-three-year-old continued,
'In my head, I was a bit amused since I write Rules and Regulations about whale harassment – and here I was being harassed by a whale'.
In the past, there have been documented cases of whales protecting other species but this will be the first documented case where they've actually protected humans from a shark.
Mothers often protect their calves by smacking their massive tails or swinging their 5-meter-long, barnacle-encrusted fins.