Jeremiah Grant was a much loved boy who loved to jump rope. 
His talent even led to him appearing on The Tonight Show Starring Jimmy Fallon. But the eight-year-old boy's life has been tragically cut short.
Grant was killed by a Jeep while walking home Saturday.
Authorities say the boy was walking home from a team fundraiser in Jersey City when the tragedy occurred.
Grant was the only boy in the Honey Bees, a champion double-dutch roping group.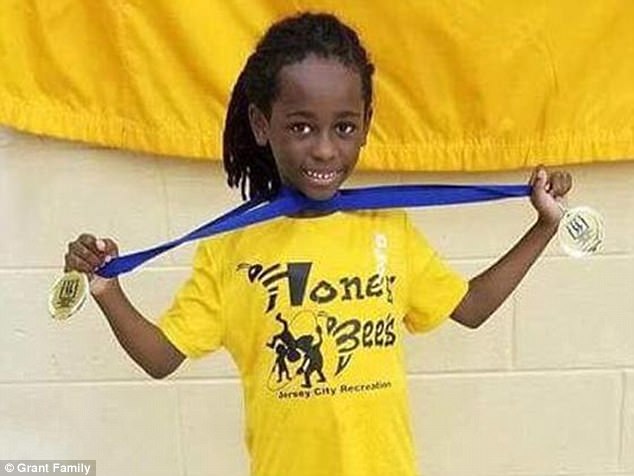 Little Jeremiah was hit by the Jeep at Christopher Columbus Drive and Grove street at around 4:30 pm.
He was rushed to Jersey City Medical Center where he was pronounced dead.
The driver is said to be a 60-year-old male who drove off until witnesses flagged him down.
Witness Jose Pimentel says the driver told him he thought he had hit a backpack. 
'I jumped on the street, went after the car. I was able to stop him and let him know he had to stop because he hit somebody,' Pimentel told the station. 
'He said he thought he went over a book bag. He didn't notice that he had hit a person.'
After the driver was cornered he remained at the  scene until police arrived. However no charges have been filed as of yet.
Meanwhile, a heartbroken community is mourning the loss of Jeremiah, 
Grieving friends have set up a YouCaring page for Grant and his family. As of Monday morning $3,250 was raised with $20,000 being the ultimate goal.
The fund states: '100% of the money raised here will go directly to his family.'
A woman named Jessica Hellinger commented on the page: 'Jerry was a great kid and he leaves behind a broken-hearted sister and mother who cares for everyone's child as if her own.'
'This family needs our support the support of the community that they give and have every woke hour to uplift bring people together thru the ropes,' she continued.
The troupe that little Jeremiah jump roped with are devastated at the loss of the Grant who was nicknamed Prince Bee.
'We all stopped at the corner and Jerry heard 'go' from another jumper and ran in the street,' Honey Bees founder Takeria Clark told NJ.com.