Lil Nas X has been riding high ever since the success of his debut single "Old Town Road."
But the 20 year-old admitted that he hadn't planned on coming out. He felt he was "pushed by the universe" to go public about his sexuality. 
"I never would have done that if I wasn't in a way pushed by the universe," the rapper told Time magazine for his cover story.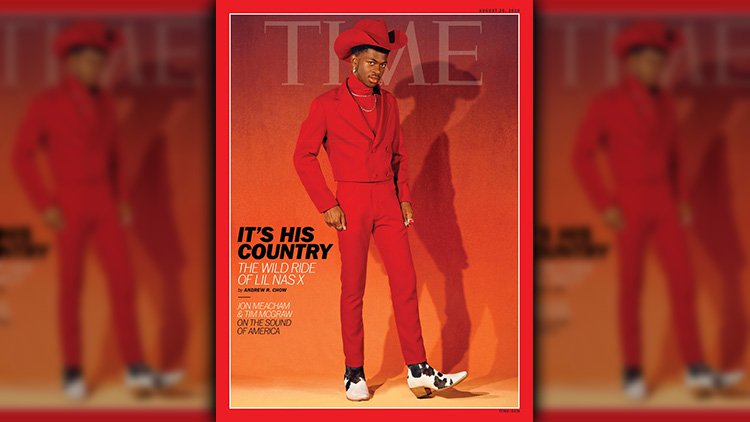 Lil Nas X revealed his sexuality to his over a million followers to celebrate the end of Pride month. 
He told his fans to listen closely to the hidden message in one of his latest songs.  
"'Some of y'all already know, some of y'all don't care, some of y'all not gone [f**k with me] no more. but before this month ends i want y'all to listen closely to c7osure," Lil Nas X wrote followed by a rainbow emoji. 
But after some fans failed to find the hidden meaning, the Atlanta-based singer wrote a follow up tweet.
"deada** thought I made it obvious," he tweeted posting a picture of his 7 EP cover art as proof. It shows Lil Nas X – real name Montero Lamar Hill – which shows him walking towards a distant city.
The rapper zoomed in on one of those buildings lit up in rainbow colors.
His coming out tweet has been met with praise by fans and celebrities like Walking Dead star Daniel Newman and beauty guru James Charles. 
Newman led the celebratory tweets writing, "So proud of you @LilNasX' and 'F**k! Coming OUT proud when you're at the Top of the rap Game!!!"
"Do you guys realize how monumental this is?!?! It's a whole new world now when being gay is an asset! unheard of. So proud of @LilNasX & all #LGBTQA heroes that changed the world for everyone."
The lyrics to Lil Nas X song c7osure is meant to be a song about struggling to come out. 
"Brand new places I'll choose and I'll go, I know / Embracin' this news I behold unfolding/ I know, I know, I know it don't feel like it's time / But I look back at this moment, I'll see that I'm fine," his song lyrics say.
"True say, I want and I need To let go, use my time to be free …Pack my past up in the back, oh, let my future take ahold / This is what I gotta do, Can't be regrettin' when I'm old,"  the lyrics continue.