R&B superstar Beyoncé greeted the Duchess of Sussex, Meghan Markle, by calling her a "princess" last night – a lip reader has revealed. 
The "Formation" singer greeted Markle by saying "Hi! … my princess."
It was a reference to her and her husband Jay-Z's Brits acceptance video this year.
In February the couple pre-recorded their acceptance speech after winning a BRIT for there joint album Everything Is Love.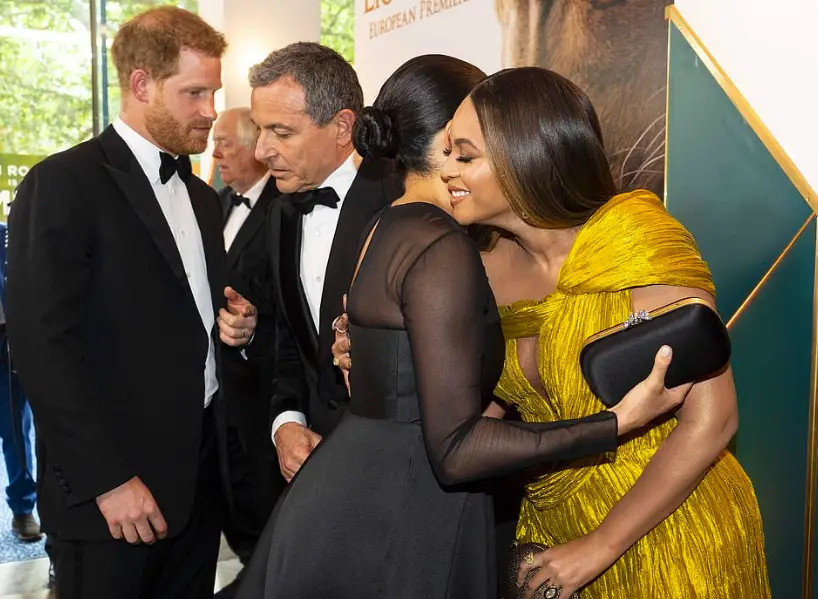 Standing in front of an oil painting of Meghan in a tiara, the Carters were dressed in colorful suits similar to the ones they wore in the "APES**T" music video. 
"Thank you so much to the BRIT awards for this incredible honor," Beyoncé says. "Everything is love. Thank you."
"You're welcome," Jay-Z responded, never looking away from the camera.
In a longer caption on Instagram, Beyoncé gave the then pregnant Meghan a shout out.
"In honor of Black History Month, we bow down to one of our Melanated Monas," she wrote. "Congrats on your pregnancy! We wish you so much joy."
Last night is believed to be the first time the two women have met in person.
The singer and her husband Jay-Z also offered the Duke and Duchess of Sussex parenting advice.
The Grammy winning artists told the royals at the European premiere of The Lion King, to "always find time for themselves."
Meghan, 37, attended the much-anticipated event at London's Leicester Square with husband Prince Harry, 34.
She and was seen embracing Beyoncé, who declared her love for the couple before telling the Duchess of Sussex her new baby son Archie was "so beautiful."
Despite being on maternity leave, it was the second appearance the former Suits actress made over the weekend.
She watched close friend Serena Williams play in the Wimbledon final alongside sister-in-law Kate Middleton, 37, yesterday.
https://www.instagram.com/p/Bz5-RjSgeyP/?utm_source=ig_web_copy_link
The Duchess wore a stunning £3,454 mid-length black gown by designer Jason Wu for the occasion.
The stunning dress had a sheer panel across the top of the bodice and sleeves. The new royal carried a small black satin clutch bag from Gucci costing £1,680. She finished her outfit with a pair of sling back black pumps by Aquazzura, costing £640. 
The couple later delighted their 9.1 million Instagram followers by sharing a gallery of images from the star-studded premiere.