As a black woman my hair is my crowing glory. I am so proud of my natural hair and will challenge anyone who says otherwise.
I am grateful for role models like Lupita Nyong'o. Because we all know that the mainstream media fails to adequately represent us. Beautiful young black girls are made to feel like their hair is not good enough.
Lupita Nyong'o took to Instagram to complain that her natural hair had been airbrushed from a magazine cover.
The Oscar winner posted the cover of Grazia's latest issue, saying: ' I am disappointed Grazia invited me to be on their cover and then edited out and smoothed my hair to fit their notion of what beautiful hair looks like.'
The 34-year-old shared an unedited photo in which her curly ponytail is very much visible.
The Twelve Years A Slave star insisted she had not been consulted about any alteration of the image.  
'I would have explained that I cannot support or condone the omission of what is my native heritage with the intention that they appreciate that there is still a very long way to go to combat the unconscious prejudice against black women's complexion, hair style and texture,' she explained. 
A spokesperson for Grazia UK claims that the magazine had not asked for the Lupita's image to be altered.
The magazine says the image had already been airbrushed when they received it. 
'Grazia is committed to representing diversity throughout its pages and apologises unreservedly to Lupita Nyong'o,' they said.
'Grazia magazine would like to make it clear that at no point did they make any editorial request to the photographer for Lupita Nyong'o's hair to be altered on this week's cover, nor did we alter it ourselves.
'But we apologize unreservedly for not upholding the highest of editorial standards in ensuring that that we were aware of all alterations that had been made.'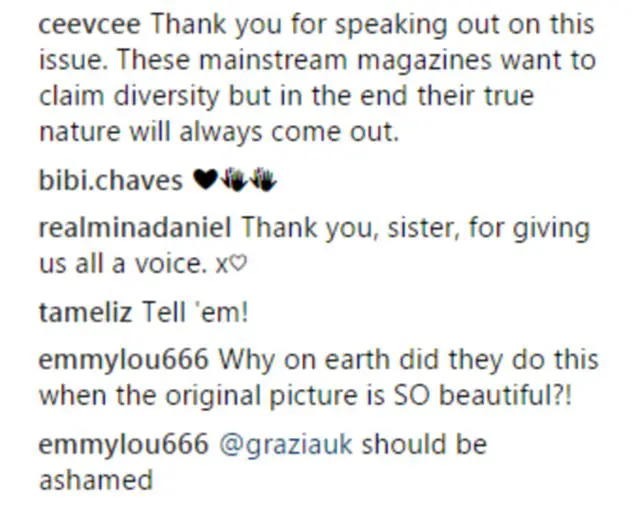 Fans of the actress, who was born in Mexico and raised in Kenya, were outraged by the editing of the image.
They praised Lupita for speaking out with one saying she was speaking out for all black women.