Imagine coping with the heart wrenching pain of losing a child.
Then, sadly the realities of life start to kick in. You have to pay your rent, you may also have other kids to look after. But all you want to do is curl up in a ball away from it all.
It takes a real warrior to be able to face the world in such adversity.
Marquise Goodwin is a warrior. The San Francisco 49ers wide receiver helped his team win their first NFL game of 2017. This just hours after his wife lost their son after complications with her pregnancy.
Goodwin scored a touchdown as the 49ers beat the New York Giants 31-21.
The grieving father celebrated by blowing a kiss to the sky and throwing up a prayer.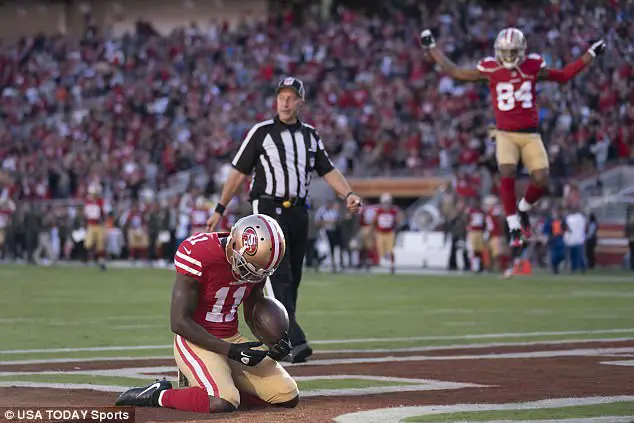 The wide receiver caught a pass from quarterback CJ Beathard for an 83-yard touchdown during the first half at the MetLife Stadium.
After his triumph on the field Goodwin posted on his Instagram account that he and his wife Morgan's son had died.
'I just wanna thank those who've genuinely prayed for @morganakamomo & myself throughout this pregnancy.'
'Unfortunately we lost our baby boy due to some complications, and had to prematurely deliver him early this morning around 4am.'
'Although we are hurt, I am grateful for the experience and grateful that God blessed me with a wife as courageous and resilient as Morgan.'
'The pain (physically, mentally, & emotionally) that she has endured is unbelievable. Please Pray for the Goodwin family,' Goodwin wrote in the post.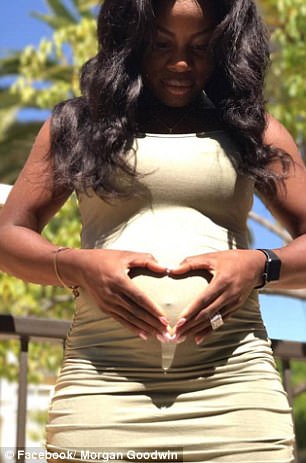 Goodwin also shared a beautiful photo of him touching hands with his dead baby son.
His wife Morgan also wrote about the devastating experience of losing her first-born son on Facebook.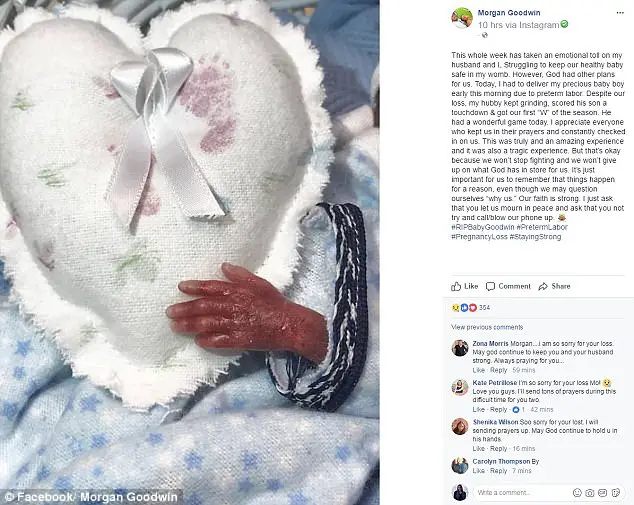 'This whole week has taken an emotional toll on my husband and I.'
'Struggling to keep our healthy baby safe in my womb. However, God had other plans for us.'
'Today, I had to deliver my precious baby boy early this morning due to preterm labor.'
'Despite our loss, my hubby kept grinding, scored his son a touchdown & got our first "W" of the season. He had a wonderful game today.'
'I appreciate everyone who kept us in their prayers and constantly checked in on us.'
'This was truly and an amazing experience and it was also a tragic experience. But that's okay because we won't stop fighting and we won't give up on what God has in store for us.'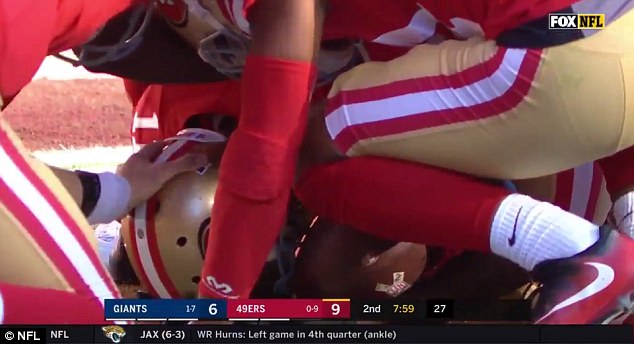 'Somee may question ourselves "why us." Our faith is strong. I just ask that you let us mourn in peace and ask that you not try and call/blow our phone up,' she wrote. 
The couple announced they were pregnant in September and told fans their baby was due in 2018.
On September 19, Morgan indicated that they were at the start of the second trimester, which means she would have been around 13 weeks pregnant at that time.
Morgan would have been around five months pregnant on Sunday.  
Goodwin and his wife were married last year. This would have been their first child together. 
Morgan is a former track athlete who specialized in the 100 meter hurdles. 
They couple met whilst attending the University of Texas at Austin